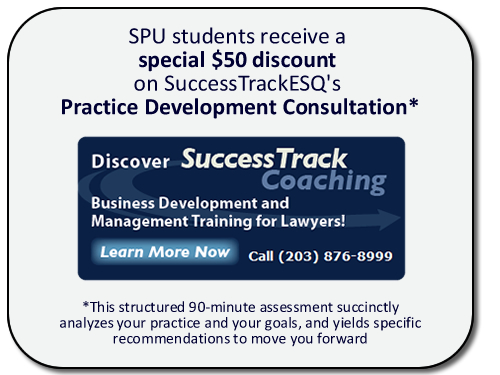 Do You Want To:
Take control of your schedule and increase your productivity?
Grow your take-home profits?
Market yourself and your firm successfully?
Serve your clients more effectively?
Manage your staff and your operation with confidence?
Enjoy your work and your life more than ever?
Like many attorneys, you probably find that actually practicing law is the easiest and most enjoyable part of your day. It's the constant interruptions, ever-changing legal marketing landscape, persistent tech woes, increasingly demanding clients, billing and collections headaches, and personnel issues that rob you of the satisfaction you sought from the start in choosing to become an attorney.
SuccessTrack ESQ is a highly supportive process of learning and applying proven techniques of practice management and business origination that provides the information, tools, and structure for you to establish the right path and take the right actions to achieve your goals.
You'll :
Set specific goals to accomplish
Learn exactly what you must do to meet those goals
Develop the right mindset and practice the right behaviors to lock in your gains
Read testimonials from other lawyers or get started with SuccessTrack Coaching.
Students and faculty at Solo Practice University® receive a discount on this item. You must be logged in to see the amount of the discount and the discount code. Enroll now to enjoy SPU benefits.
*Please contact vendors directly for customer service.