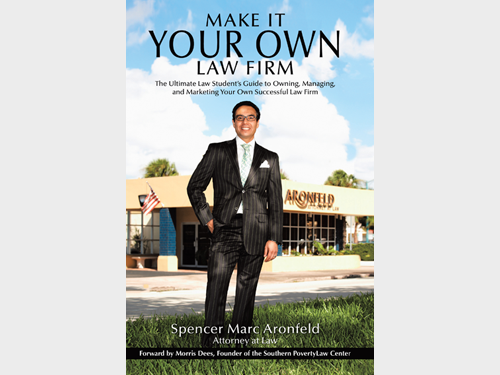 The Ultimate Law Student's Guide to Owning, Managing, and Marketing Your Own Successful Law Firm
By Spencer Aronfeld
Spencer Aronfeld writes a personal and revealing account on how to start your own law firm. Whether you are in law school, recently graduated or a practicing attorney thinking of establishing your own law firm, this book provides a step-by-step road map.
Aronfeld started his own law practice upon graduation from law school. He provides practical advice that will enable anyone with a deep passion to practice law to become the lawyer that they always wanted to be.
Learn more and purchase the book.
TESTIMONIALS
"I think this book can bring hope to many a young lawyer and even an old one or two who struggle for their freedom. Too many of us are slaves to wages, or unhappy partnership. To own oneself is the greatest wealth a person can have." — Gerry Spence
"As the author of a law school admission guide book,The Law School Admission Game: Play Like an Expert I can vouch that the next step after getting into law school is to read Spencer's book. It's better to read this than any of the books on your law school's summer reading list…"–Ann K. Levine "Law School Expert"
"…detailed instructive book which is a MUST READ for any law student who's thinking of starting their own law firm… " –Samy Chong
"..an inspiration and a guide to making the seemingly impossible a reality…" –Domenick Lazzara
"What they don't teach in law school, Aronfeld teaches here…This book is full of valuable how-to tips and lessons from someone who truly knows what it's like to start from nothing and build it to something truly special. From cover to cover, this is a book that any aspiring attorney should not miss." Tom Young
*Please contact vendors directly for customer service.