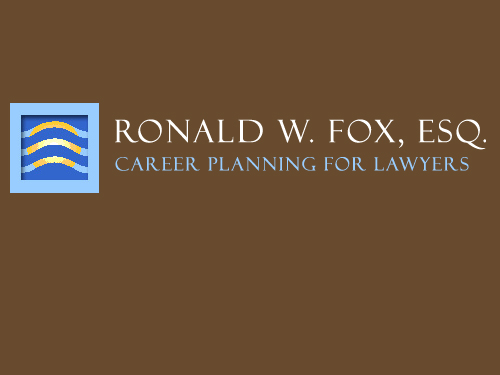 Career Planning for Lawyers – providing advice and guidance to lawyers and law students
by Ronald W. Fox, Esq.
Through the career planning process, dissatisfied, unemployed and underemployed lawyers as well as law students and recent graduates:
learn the fundamental principles of career planning;
explore their options;
draft a targeted resume; and
use self-promotional techniques to find satisfying unadvertised positions in the law.
Most clients eventually decide to practice law in a new setting, even those who originally contemplated "leaving the law." Clients sign no contracts and the only retainer is $300 for the first two hours. I do, however, provide an estimate to a prospective client seeking a position in a small firm, or as a solo, that I will devote about 6-10 hours of my time over a period of about three months (in person or by telephone) at a rate of $150 an hour.
After practicing law (family & divorce mediation) in small firms of 2-4 lawyers and as a solo and creating legal services delivery programs, in 1983 I began providing career advice to law students not interested in BigLaw at Harvard Law School. Since 1990, I have provided career planning and professional development consultation services limited to the legal profession, including law schools and bar associations.
Free initial consultation.
Students and faculty at Solo Practice University® receive a discount on this item. You must be logged in to see the amount of the discount and the discount code. Enroll now to enjoy SPU benefits.
*Please contact vendors directly for customer service.