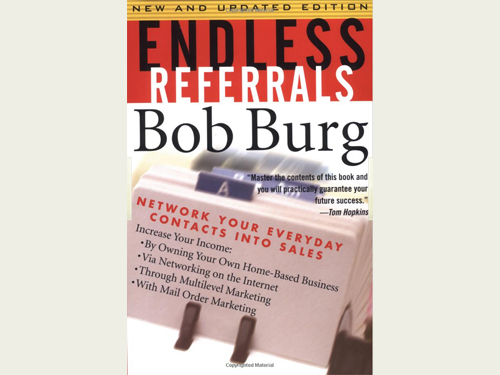 Endless Referrals: Network Your Everyday Contacts Into Sales
by Bob Burg
With over 175,000 copies sold, this is one of the most popular business- and sales-boosting guides ever written. This new edition offers successful entrepreneur and speaker Bob Burg's proven relationship-building system.
From the Back Cover
Using this book, thousands of professional and entrepreneurs have turned casual into solid sales opportunities with nationally renowned speaker and bestselling author Bob Burg's proven relationship techniques. In this completely updated edition of Endless Referrals, he shows you how to:
Turn every contact into a sales opportunity
Dramatically increase your business without spending more time or money
Identify the most profitable contacts
Network the Internet
Set up a successful home-based business
Take the intimidation out of telephoning
Overcome fear of rejection
Succeed in multilevel marketing and mail order marketing
Position yourself as an expert
Mark yourself for success
*Please contact vendors directly for customer service.