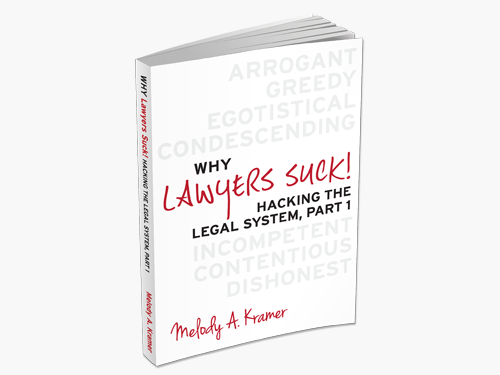 ---
Take the mystery and fear out of dealing with lawyers!
Is your lawyer more interested in taking your money than solving your legal problems?
Does your lawyer forget everything you tell him/her at court?
Is your lawyer unable to give straightforward, simple answers to any question?
Stop feeling powerless and at the mercy of lawyers! In this first book of the Hacking the Legal System series, get the inside scoop on why lawyers act the way they do, empowering you to effectively deal with them, saving thousands of dollars in legal fees and avoiding time frustrations and timewasters of lawsuits. This sometimes humorous, sometimes disturbing exposé shares stories of the author's first terrifying first experiences in a law school classroom, the first time she made a witness cry, the harsh realities of day-to-day lawyering, and why it is easier to invade a small country than file papers in some courthouses. Interspersed are helpful hacks—practical tricks you can use right away to keep lawyers from ruining your life.
Purchase or learn more about this book on Amazon
Students and faculty at Solo Practice University® receive a discount on this item. You must be logged in to see the amount of the discount and the discount code. Enroll now to enjoy SPU benefits.
*Please contact vendors directly for customer service.