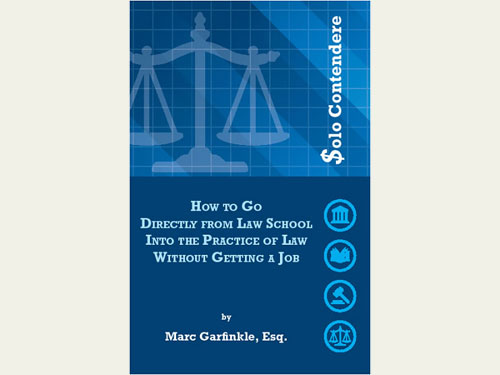 How to Go Directly from Law School into the Practice of Law – Without Getting a Job
Authored by Marc D. Garfinkle Esq.
"Lawyers don't need jobs. All we really need is work – we need clients to pay us for what we do." Writing for disillusioned new attorneys in a shrinking marketplace, law professor and trial attorney Marc Garfinkle shows how a newly admitted attorney can go into practice without any experience. Preaching a gospel of defensive practice, he offers warnings, tips, tricks of the trade, and some of those things that "all lawyers know." "Know your stuff and know your depth," he says. "Don't take cases that two or more lawyers have worked on before you." He warns about problematic clients, and shows how to withdraw safely from a case. He warns against having the only known copy of a document. He tells how to make a business plan, how to get work from lawyers, how to build a good reputation.
The state bar associations of Ohio, Missouri, and Colorado publish their own versions of Solo Contendere for distribution to their members.
Informational and inspirational, easy to read and brimming with the author's enthusiasm for his subject, this book is a blueprint for the new lawyer who wants to have clients, but has no legal experience.
"Finally! A book that tells you it's okay to go right out on your own. Marc Garfinkle shows you how to put your law degree to good use from Day One. Here's to finding work instead of looking for a job! Great book!!" Danny Alvarez, Sr., Stetson J.D., Miami LL.M
"This is no law school textbook! It's an easy read, simple, straight-forward, and full of insight and clever advice." Zak Eagle, Boston U. School of Law
"This book is fantastic! And it's hard to put down."
Derrick Upchurch, Seton Hall Law School
"$olo Contendere should be MUST reading for every law student and newly-admitted attorney. I only wish it had been available when I started practicing."
Cynthia Sharp, Esq., J.D., LL.M. "The Sharper Lawyer"
"Intelligent, witty and engaging…essential reading for anyone wanting to open a law practice in the new millenium." Laura Glick, Esq.
Publication Date: Sep 25 2010
ISBN/EAN13: 0984380124 / 9780984380121
Page Count: 162
Students and faculty at Solo Practice University® receive a discount on this item. You must be logged in to see the amount of the discount and the discount code. Enroll now to enjoy SPU benefits.
*Please contact vendors directly for customer service.