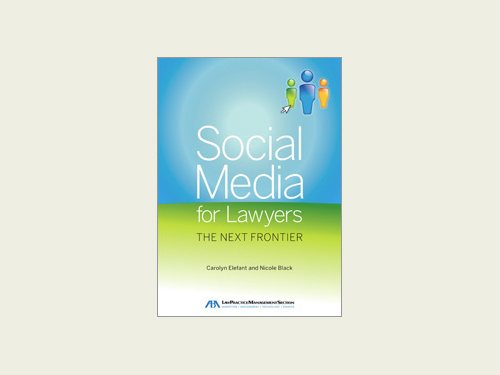 By Carolyn Elefant and Nicole Black
The world of legal marketing has changed with the rise of social media sites such as Linkedin, Twitter, and Facebook. Law firms are seeking their companies attention with tweets, videos, blog posts, pictures, and online content. Social media is fast and delivers news at record pace. Social Media for Lawyers: The Next Frontier provides you with a practical, goal-centric approach to using social media in your law practice that will enable you to identify social media platforms and tools that fit your practice and implement them easily, efficiently, and ethically.
Beginning with a brief historic overview of social media, this guide describes the current trends and statistics on current use, as well as explains why social media is important for lawyers, and busts some of the myths that deter lawyers from engaging in social media. Included are:
- descriptions and screen shots of various social media platforms and step-by-by advice on setting up a profile
- advice on how to use social media to accomplish specific goals such as establishing expertise, building relationships with colleagues and engaging in damage control
- an outline of the do's and don'ts of social media, including the best practices and appropriate "net-iquette," legal ethics and FTC disclosure requirements
- discussion of legal issues such as copyright, defamation, damage control, and in-house blogging policies
- predictions of where social media is headed in the future
Social media gives lawyers the tools to provide potential clients with the kind of in-depth information that they've come to expect online prior to making any kind of decision requiring significant commitment of resources. Bottom line: If you're not using social media, you can't deliver the kind of information that today's clients demand before hiring a lawyer.
Learn more about Social Media for Lawyers: The Next Frontier or purchase it online.
*Please contact vendors directly for customer service.