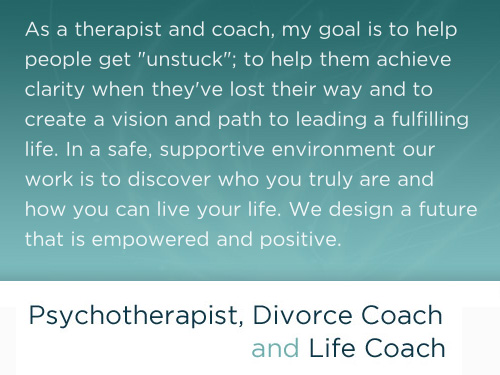 There are a lot of issues that come up in being a solo practitioner that have to do with the logistics of running a new business: networking, marketing, finances, creating your workspace, getting clients to name just a few. It's a leap of faith and self-affirmation that you have what it takes to make this happen. Sometimes the old tapes of fear and doubt can get in the way of creating a vocation that works for you!
Plus, the work itself can also be exhausting. It was reported by the ABA that "About 19 percent of lawyers experience depression at any given time, compared with 6.7 percent of the general population. About 20 percent of lawyers have drinking problems, twice the rate of the general population." Taking care of your practice means taking care of you, too. And, a large part of what attorneys have to deal with in practice are the emotions of their clients who are seeing their attorneys, probably because something is going terribly wrong in their lives.
My service is two-fold;
I can assist you in keeping focused and energized and emotionally centered in creating this vision for yourself. A strong you is free to create a strong business and be really available to your clients.
My other service is to help your clients navigate the emotional minefields. Whether going through family issues such as divorce, parenting arrangements, the upheaval of a death in the family, attorneys have to deal with the complexities of their clients' lives. Having someone to refer to, to assist in dealing with the emotional upheaval so you can concentrate on their legal concerns and protections is going to make your job A LOT easier.
Renee is available for telephonic therapy and coaching sessions. To learn more, visit TherapyandCoaching.com today!
Students and faculty at Solo Practice University® receive a discount on this item. You must be logged in to see the amount of the discount and the discount code. Enroll now to enjoy SPU benefits.
*Please contact vendors directly for customer service.