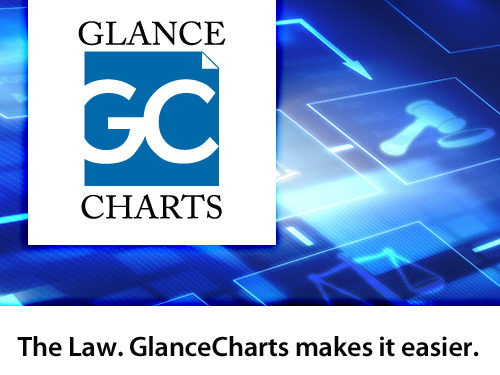 A Rapid Learning and Research Tool for Lawyers
GlanceCharts combines a quick reference foldout chart and online resources in a revolutionary tool for legal professionals. A tool spanning a multitude of practice areas and legal topics. A tool ideally suited for newer attorneys or those new to a practice area yet powerful in the hands of any practitioner.
In cooperation with Solo Practice University® we have made available to subscribers the first of a series of E-discovery and digital evidence chart/webinar products in this rapidly evolving and vital practice area. In the near future we will launch a second product in this series: A Quick Guide to Introducing Digital Evidence available for purchase from our website.
We will also be launching other national products including a Quick Guide to Federal Civil Procedure and Federal Civil Evidence. In addition to our federal products we currently offer state law-based products including a three-component chart/webinar/database combination that provides summaries of cases related to specific points in the chart. Visit our catalog and store for additional information.
To learn more and get started click here.
Please also visit our Facebook and Twitter.
*Please contact vendors directly for customer service.