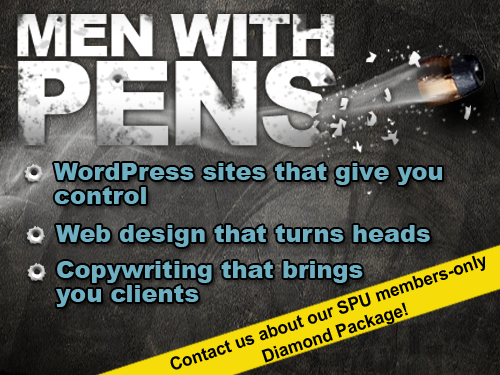 You have one goal: a successful practice. We have one goal, too: to help you get there.
At Men with Pens, we provide sleek web designs that people notice and compelling copywriting that makes them want to be clients.
You don't need to know anything funky, like artsy voodoo or technical jargon. You don't have the time. You have a practice to run.
Our team of talented designers, skilled coders, and expert copywriters makes your online presence come together fast, reliably, and with no surprises. We listen to your needs, and then we capture your vision for results that are totally in tune with your unique personality to help you get results.
We keep it simple, too. We use words you understand and give you silver-platter service so you can relax and focus on what you do best.
To make it even more simple, we provide value-packed solutions, cool power extras and an easy five-step process for your full convenience.
Contact Men with Pens today or click here to visit our site. You get web design that wows, worry-free setup and copywriting that sells.
All in one package. All in as little as three weeks. All for your success.
Students and faculty at Solo Practice University® receive a discount on this item. You must be logged in to see the amount of the discount and the discount code. Enroll now to enjoy SPU benefits.
*Please contact vendors directly for customer service.