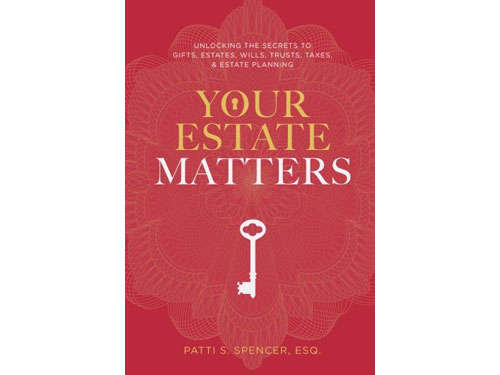 Patti Spencer has learned everything there is to know on this subject and has written down a good bit of it in this book. We don't intend to neglect our estate and financial plans, but it is so easy to be overwhelmed with conflicting financial advice. Your Estate Matters will bring clarity to those pesky, rapidly changing tax laws and will provide you with the accurate information you need to properly manage your estate. Your Estate Matters offers a practical down-to-earth approach that explains the ins and outs of estate planning, tax savings, and other issues that directly affect your family's pocketbook: income tax, living wills, trusts, prenuptial agreements, college savings, and retirement planning. If you want to stay ahead of the curve, are ready to plan your own estate, have aging parents, or have recently retired, this is the book you need to read.
"This is a tremendous help to individuals as they try to sort out their estate and tax planning needs" – Matthew J. Creme, Jr. Partner at Nikolaus & Hohenadel LLP, Former President of the PA Bar Association
"When it comes to estate planning and tax law, there's simply no one better than Patti Spencer. She demystifies estate planning in a way that is accessible for all. Known for her no nonsense style and humor, this book is a must-have for anyone making their estate plans or just trying to understand the process" – Samuel Bressi, President & CEO of Lancaster County Community Foundation
"I have read Patti Spencer's newspaper column on a weekly basis for several years now, and never tire of learning more about estate planning and tax law. Patti manages to take complicated issues and reduce them to their simplest form" – David Griffith, Former Business Editor at Intelligencer Journal
Purchase "Your Estate Matters" now!
*Please contact vendors directly for customer service.