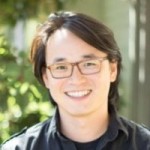 Amazon transformed the retail industry by networking small businesses together.  It eventually replaced the individuality of each small business with it's own 'brand', Amazon. Soon, small businesses were able to reduce their overhead further by cutting out their physical real estate, cutting employees and simply marketing and selling their goods through Amazon.  This on-demand online company is a 'networked platform' and meets the customer where they are.  Imagine a network for lawyers that has nothing to do with a commercially branded company, but through bar associations, or through certain law schools or an AmLaw 100 firm.  Imagine a network for solos in a given state or region. Imagine a network driven by the lawyers.  This is an eye-opening guest lecture which will help you to envision practicing the way you want to practice.  Listen and learn.
The audio is about 43 minutes. Listen directly below.
Tony Lai is a lawyer turned educator and entrepreneur, working to create and evangelize structures that support openness and innovation, engagement and sharing. Tony read Modern History at Exeter College, Oxford and holds a Masters in Law Science and Technology from Stanford University, California.
Tony is the co-founder of LawGives, a startup with a mission to bring universal access to trusted legal help. LawGives helps lawyers use technology to achieve their full potential.
Tony is also on the staff team, at StartX, the Stanford student startup accelerator, helping Stanford's most passionate, innovative and talented founders develop as entrepreneurs through experiential education. He is a Fellow at CodeX, the Stanford Center for Legal Informatics, and was on the teaching team for the joint Harvard/Stanford class, Ideas for a Better Internet. He is also an Associate Editor for Stanford Law School's China Guiding Cases Project, an initiative aiming to advance knowledge and understanding of Chinese law and to enable judges and legal experts both inside and outside of China to contribute to the evolution of Chinese case law.
Previously, Tony was an Associate at Herbert Smith LLP, practicing law in their London and Hong Kong offices, advising companies, public sector bodies and charities working in the technology, communications and media industries across Europe, Asia and Africa. In April 2011 Tony was a recipient of the Samsung-Stanford Patent Prize for his academic work on patent damages.
Tony continues to be an avid exponent of design thinking, after spending a glorious six months working with an interdisciplinary team of graduate students at Stanford's d.school to design, prototype and deploy innovative solutions in the context of museums, art and cultural spaces.
---
Listen to more guest lectures from Solo Practice University® and get notified when new lectures are published.
All opinions, advice, and experiences of guest bloggers/columnists are those of the author and do not necessarily reflect the opinions, practices or experiences of Solo Practice University®.