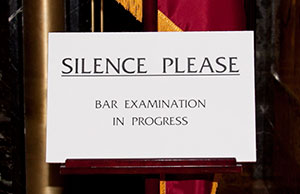 Today we have some fantastic advice from Doretta McGuinnis of the Law School Toolbox and Bar Exam Toolbox team. She is here to share her wisdom about choosing your law school classes wisely (and how these choices can make a difference in your bar prep.). 
---
Your 1L curriculum was predetermined, but as you choose your 2L and 3L classes, you'll have some flexibility. Should you look ahead to the bar exam as you choose your classes? Here is some advice to help you decide.
Consider the MBE subjects. If you sit for the bar exam in any U.S. jurisdiction other than Louisiana or Puerto Rico, you will take the Multistate Bar Exam  (MBE). This is the grueling 200-question multiple-choice exam developed by the National Conference of Bar Examiners (NCBE). The MBE tests Civil Procedure, Constitutional Law, Contracts, Criminal Law and Procedure, Evidence, Real Property and Torts. So far, so good:  you've probably had all of these, with the exception of Crim Pro and Evidence, during your first year of law school.
Consider the relevant essay subjects. Unfortunately, the MBE is just one component of the bar exam. Many – but not all — jurisdictions also require a number of essays. These can come from one of two sources. One is the Multistate Essay Exam (MEE). Like the MBE, the MEE is developed by the NCBE. It is administered in more than 25 U.S. states, plus the District of Columbia. In addition to the MBE subjects, the MEE may test Business Associations, Conflict of Laws, Family Law, Trusts and Estates, and the Uniform Commercial Code (Secured Transactions).
Some jurisdictions have their own, unique essay exams. Non-MEE essays tend to cover similar ground, but may include jurisdiction-specific topics. For example, California essay subjects include California Civil Procedure, Community Property, Professional Responsibility, California Evidence, Remedies, and Wills and Trusts. Back east, Pennsylvania examinees face the unusual requirement of Employment Discrimination, along with more typical subjects. (In good news for aspiring New York lawyers, New York will adopt the Uniform Bar Exam, or UBE, in July 2016, thus substituting the MEE for New York essays.)
Compare the MBE and essay subjects with your law school curriculum.
Some law schools require students to take more bar subjects than others. In an attempt to boost bar pass rates, some schools have different course requirements depending on GPA, allowing students with high GPAs (likely to pass the bar) to take more electives while requiring students with low GPAs (at risk of failing the bar) to take more of the bar subjects. If you are going to be required to take all of the subjects tested on the MBE and the essay portion of your jurisdiction's bar exam, you can stop reading now. If you have more flexibility and control over your course selection, read on.
Odds are, you'll naturally take some of the non-1L bar subjects. Even if Evidence is not required, virtually all law students take it by choice. In addition, you may be interested in some of the other typical bar essay subjects, like Family Law or Wills and Trusts, regardless of their bar status. If you're planning to stay in state, a course in your jurisdiction's Civil Procedure may prove valuable.
Consider how the bar essays are weighted. Let's presume that you'll do better on bar subjects that you've actually studied in law school. You need to assess the risk that you'll endanger your bar passage by not taking a course and scoring poorly on the essay that tests that subject. If you don't take the course in law school, can you learn enough in the bar review course to get by?
To illustrate, when I took the Pennsylvania bar, if you got a score above a certain threshold on the MBE, the examiners did not grade your essays. Sadly, this is no longer the case. This system incentivized us to focus our bar studying on the MBE rather than devoting time to subjects tested solely in essays. This also led us to ignore bar requirements when choosing upper level courses. As a result, everything I ever knew about secured transactions I learned in bar review, and then regurgitated in an essay that was not graded. Fast forward to the current Pennsylvania bar exam, where the MBE is weighted at 45% and the essays and performance test combined for 55%. This is why many aspiring Pennsylvania attorneys now take Employment Discrimination.
To sum up:
Most of the MBE subjects are required, and you'll probably take those that aren't, such as Evidence.
Make a list of your jurisdiction's essay subjects that differ from the MBE subjects.
How many of these essay subjects are required at your law school? If all of them are required, you're done. If not . . .
Consider how your bar exam will be graded. Will your passing the bar exam potentially turn on your performance on an essay? If so, you might want to take the related course.
All opinions, advice, and experiences of guest bloggers/columnists are those of the author and do not necessarily reflect the opinions, practices or experiences of Solo Practice University®.