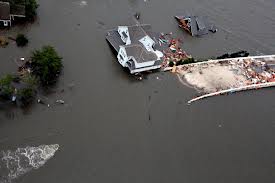 Hurricane Sandy has taught us a lot about the role of social media. Yes, we heard how in another country it helped foment a  revolution. One person's query on Twitter tipped the world off that the assault on Bin Laden's compound was in process. One person's Facebook post that he'd been arrested in a foreign country got him help from the U.S. Individuals use social media all the time to help themselves or their cause or they act as lay reporters.
Hurricane Sandy was different. Maybe it was due to the enormity of the event and the massive amount of people impacted.  Maybe it was because New York City, the presumptive financial capital of the world and home to millions, was due to be hit head on. Whatever the reason, Sandy showcased the incredible value of social media as an information delivery system to 10s of millions by those charged with helping us through the crisis. Federal and local government, local agencies, public services and private companies provided timely and necessary, often critical information, through these channels to millions of people without power. Most people could only access this information through mobile devices because they had no power. This told us in no uncertain terms that the medium had taken its rightful place as a unifier, a recognized centralized emergency response center for dispatching of critical, often life-saving, information. Here are just a few examples from Facebook (screenshots):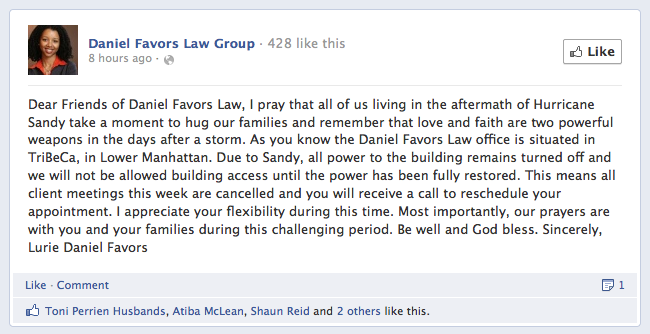 ---
TWITTER: Stories and actual tweets
Anyone impacted by #Sandy, including homeowners, renters and businesses, should go to http://t.co/xsJ8YUsL to register for assistance.

— City of New York (@nycgov) October 31, 2012
RT @JacielCordoba SANDY UPDATE: Cabela's in Hamburg has 700 generators available. #Cabela's #Sandy #generators

— WFMZ-TV 69News (@69News) October 31, 2012
Make sure you're following your state #emergency management agency as #Sandy approaches @MassEMA @MaineEMA @RhodeIslandEMA @CTDEMHS @vemvt

— FEMA Region 1 (@femaregion1) October 26, 2012
VIDEO: Tips for returning home after #Sandy http://t.co/DxLLnQEz

— American Red Cross (@RedCross) October 31, 2012
Half as many cancellations today (13) as yesterday @AUStinAirport due to #Sandy. Check your flight status here: http://t.co/jz6SI7A8

— Austin-Bergstrom (@AUStinAirport) October 31, 2012
#NYtransit update: Grand Central Terminal will reopen to the public by 2PM #sandy

— Andrew Cuomo (@NYGovCuomo) October 31, 2012
We're resuming operations today at airports impacted by #Sandy with the exception of EWR, JFK, LGA. Latest update: http://t.co/WO9x0Lzu

— American Airlines (@AmericanAir) October 31, 2012
Emily Rahimi, New York Fire Department's one-woman response team
If it weren't for the efforts of Emily Rahimi, even those New Yorkers who hadn't lost power might have been in the dark. At the helm of the NYFD's official Twitter feed, she made contact with and provided information to those having difficulty reaching 911. Rahimi also passed along updates from the mayor's office and urged individuals, through Twitter, not to give up on calling the emergency number, assuring those waiting that help would come.
Mayor Cory Booker himself set out across his community, driving around Newark and urging residents to be safe and remain inside. He even participated in the relocation of the city's homeless into shelters. He used Twitter to tell people to remain indoors and to update them on the storm's developments.
200 Statistics to Help You Wake Up
The public (your clients) are turning to social media such as Facebook and Twitter for information on how to conduct their lives in a crisis.  But if you don't believe me here are more than 200 statistics which may change your mind.  (I've shared some, bolded some and you can read more by clicking on the link above.)
General social media and Internet stats:
91% of online adults use social media regularly
YouTube users watch more than 3 billion hours of video per month
About 1 in 3 blogger are moms/mums (had to cater to both our American and British/AU audience there J) (source: Hubspot)
There are more devices connected to the Internet than there are people on Earth (source: AllTwitter)
24% of people have missed witnessing important moments because they are too busy trying to write about them on social networks
83% of people believe platforms like Twitter and Facebook help them make new friends
25% of people believe social networks have boosted their confidence
24% of Americans and 28% of Brits have admitted to lying or exaggerating on a social network about what they have done and/or who they have met
40% of people spend more time socializing online than they do face-to-face (source: AllTwitter)
Every minute of the day:

100,000 tweets are sent
684,478 pieces of content are shared on Facebook
2 million search queries are made on google
48 hours of video are uploaded to YouTube
47,000 apps are downloaded from the App Store
3,600 photos are shared on Instagram
571 websites are created
$272,000 is spent by consumers online (source: AllTwitter)

Internet users spend 22.5% of their online time social networking
The web contains more than 8 billion pages
There are more than 2.27 billion people online (doubled since 2007)
70% of adult social networkers shop online
53% of active adult social networkers follow a brand
80% of active internet users visit social networks and blogs (Source: AllTwitter)
Almost 8 new people come onto the internet every second
79% of online shoppers spend 50% of their online shopping time researching products
the average budget spent on blogs and social media has almost tripled in 3 years
57% of marketers acquired customers via blogging
44% acquired customers via Twitter
61% of global internet users research products online
US Internet users spend three times longer on social media and blogs than email
social media use has increased 356% in the US since 2006
the average user spent only 3 minutes on Google+ in Jan 2012
65% of Pinterest's traffic is from the US
there are 152 million blogs on the internet
companies that blog have 55% more website visitors
35% of consumer comments on Facebook Pages are compliments
93% of US adult Internet users are on Facebook
9/10 mobile searches lead to action – over half lead to purchase (source: Hubspot)
Facebook Statistics
Each day Facebook users spend 10.5 billion minutes (almost 20,000 years) online on the social network
Australians spend 26 minutes, 27 seconds on Facebook each day, New Zealand 30m31s, Singapore 38m46s, United Kingdom 26m27s, France 21m53s, United States 20m46s, India 20m21s, Brazil 18m19s
Only 50% of Facebook users have more than 100 friends (source: AllTwitter)
There are 955 million active users on Facebook that spend an average of six hours and 35 minutes per month on the network (desktop only)
An average of 3.2 billion likes and comments are posted every day
Facebook posted a 67 percent year-over-year mobile growth rate (543 million monthly active users on mobile).
The 6:35 per month spent on Facebook is nearly double the time (3:20) spent on Google.
58% of users return to the site daily.
In an analysis of more than 60 Facebook marketing campaigns, 49 percent reported areturn on investment of more than five times, while 70 percent had a return on investment greater than three times. (source: AllFacebook)
All of this begs the question, 'Are you using social media in a meaningful way which begets business?' Some of you have hemmed and hawed about creating a Facebook business page.  Some of you question the ethics of 'friending' clients or vice versa.  And there are issues about having your clients 'like' your page for fear they would be revealing they are clients.
However, is there anything wrong with creating the page, letting your clients know you do have a page and giving them the option to like the page explaining this potential confidentiality issue and then using it as an additional means of providing generalized information or more critical information in a time of crisis?  By no means should you state they must like the page and that all important information will only be dispensed there.  That's patently absurd.  But you should know that people don't have to 'like' your page to see your message.  They simply have to look up your law firm on Facebook to see what you've posted.  They can look up your Twitter handle and see what you've posted in your Twitter stream without even having to follow you.  So why not give them your social media information and post interesting relevant information they can use at all times.
The most important take away for you is to realize people are increasingly going to social media first for guidance and important information. For you to not be where they are looking can be impacting your professional relevance and ultimately your livelihood.