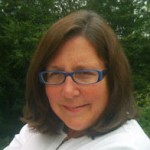 Solo Re-Zooming
We are very excited to be introducing a new monthly columnist, Debra Vey Voda-Hamilton, who will be speaking to many of you out there – the Solo Re-Zoomer – the lawyer who took a break to raise kids and is now coming back into the legal work force as a solo.  Debra is intelligent, vibrant, a real go-getter, and I love her story.  She will be featured here every first Friday of the month chronicling her adventures and sharing her hard-earned wisdom.
It's My Story and I'm Sticking To It
Debra Vey Voda- Hamilton
In April of 1996 I resigned from practicing law full time. My oldest son was 6, my youngest 3 years old. I had always intended to stop working and stay home with my children when my oldest son started school. I'd put off this self-induced exile from practicing law for one year, by having my son skip kindergarten in our local public school to attend a more relaxed kindergarten at his then day care. Now the transition was upon me. I looked forward to it with trepidation. What was I thinking? I'd worked at something/or somewhere since I was 13.
Let me give you a little background about me. I started law school in September 1980. Before that I was a Jones Beach Lifeguard from1975 to 1981 and was one of the first women ocean lifeguards. I married in the summer of 1981, graduated law school in 1983 and practiced law for seven years before my son was born in 1990. I worked in various government agencies from 1983-1996 including the NYPD, Westchester DA and MTA-IG. Each was a fulfilling legal experience.
As a hobby, after law school, I started showing Irish Setters in breed conformation and obedience. I am now a nationally recognized breeder and exhibitor in multiple disciplines of competitive show dogs. I have been raising and showing Irish Setters since 1984 and Longhaired Dachshunds since 1997 under the prefix Rumraisin.
Now back to the story. As my great plan dictated, it was time to step away from law and become a full time mom. I was sure it was what I wanted, to stay home, raise my kids myself and be fully involved in this period in their lives. At the time it seemed to me the prudent thing to do
Fast-forward 12 years to 2008. My oldest son was graduating HS; my youngest son a freshman in HS. I had been the PTA Vice President of their public grammar school and middle school, several grades Class Parent, Foundation Board member and Fundraiser and speaker on behalf of each public school they attended. I was also on the parent boards of both my sons' boarding school, as Treasurer, Boarding Parent and Annual Fundraiser. I attended every sporting event, for each child, with homemade chocolate chip cookies.
To put it simply, I traded my paid career in law for an unpaid career in the school system.
What I realized, only after a career coach asked me to look back on those 12 years, was that while I was away I had garnered a whole new skill set during what I define as my years of 'retirement'.
I had always attended CLE's and after attending would always want to return to practicing law immediately. At which point, I would sit down and wait for the feeling to pass.
However, in 2009, 'the feeling' coincided with the financial crisis.
Did I mention my wonderful husband of almost 30 years is an investment banker? At this moment in time, my sense of practicality and 'what if' mentality took over. I circled the wagons and decided that I need to provide for a worst-case scenario. I dusted off the old law degree, just in case things went south. Murphy's Law is my credo. I started 'surfing the web' looking for programs assisting retired attorneys return to the practice of law.
While researching my return I located a re-entry program called New Directions (ND) at Pace Law School, in White Plains, New York, right down the street from where I live. I saw it as an omen. The program provides attorneys who have taken a break from practicing law, a jump-start on their re-entry to practice. They offered a six-month course, which included three months of subject matter lectures, resume coaches, social media experts, legal research aficianados, organizational mentors and the list goes on and three months of an externship to provide current work experience.
With my husband and sons' blessing, I started my legal re-entry process in July 2009. It was the first ND class being offered in Manhattan at the Pace Graduate Center and the first class made up of only women. My re-entry colleagues and I met on a warm summer's day in Manhattan. I was personally nervous about this whole process and who the other attorneys would be. However, on that first day, no one showed their nerves. Later, I discovered my classmates uniformly shared my fears.
As we went around the room introducing ourselves, one constant thought kept ringing in my ear, other than the pro/con PTA alliance, these are really smart lawyers. My colleagues and I described the many different things we had done in our 'gap years' and the reasons why we were returning to the practice of law. We spoke about why we left or whether we had ever practiced.
I detected another common theme, the little value we placed on what we had done since practicing law. Each woman spoke as if apologizing for her life sans law. This was in stark contrast to the vigor and laughter we engaged in as we described what we had been up to for all the years up to our self-imposed hiatus. We didn't give ourselves, or what we had done, much respect or a sense of achievement.
If challenged, I believe each of us would have used our legal skills to verbally beat someone senseless if they spoke negatively about our choice. Yet, we ourselves did not place much value in what we had been doing while on sabbatical from the law. We didn't/couldn't see the positive impact our choice had made on our lives and the lives of others. We talked a great line at cocktail parties, yet we didn't believe a word of it in our hearts, me included.
Over the next three months we were treated like law students with a twist. Practitioners in various fields of law taught classes in lecture model. They gave current insight into what they did all day and spoke as well to the value in what we had done while we were away from the practice of law. How it was invaluable to our assimilation back into the legal field. They spoke of the value in what we were currently doing, seriously immersing ourselves in a legal back- to -work program. This constant stream of positive feedback on our life's earlier and current choices made coming to terms with its real time value more clear.
Our first week, called 'boot camp', was the most fun, NOT. It is the period I fondly refer to as "Greek Week". We were brought up to speed on legal writing, research and technology. (Lexis/Nexis and Westlaw were in their infancy when I retired. Come to think of it, so was the Internet!). We completed several long days of Legal Writing & Research culminating in a Memo of Law, our new writing sample. I now have a tee shirt stating, "I survived Greek Week," and it does not refer to my pledging my Delta Gamma sorority.
At the conclusion of three months, I began an externship. I interviewed for several of the opportunities offered at ND and chose The Harlem Stage. It did not start out as a legal position per se, rather it was an opportunity to stay in my comfort zone and help them fundraise, legally.
While I conducted legal research into Not for Profit 501C3 fundraising in NY, I came across information linking Not for Profit fundraising, its Board of Directors and Sarbanes Oxley. It quickly became apparent there were potential oversight and governance policies, which would soon be required by law that The Harlem Stage had to develop. I became the 'accidental maven' of Sarbanes-Oxley's oversight requirements for Not for Profit entities. I worked with The Harlem Stage and moved them into compliance. I loved every minute of acting like an attorney.
This experience of independently seeing an issue, researching the issue, writing about the issue and fixing the issue made me realize Wow! Maybe I should think about opening my own law practice.
After graduating from ND in December 2009, I set out to find my place in the legal world as a solo. Scary! In the back of my mind I had already started hatching a plan although I don't think I knew it in the winter of 2010.
At the 2010 NYSBA Meeting, I attended the Animal Law committee presentation where discussions swirled around how Judges were not predisposed to handling animal conflict cases. They involved emotional issues not addressed by law. I attended the Alternative Dispute Resolution (ADR) Committee meeting, where they discussed the current use of Mediation in matters where the law had not caught up with what parties believed needed addressing. Eureka! It didn't take me long to connect the dots to my future in the law, ADR in animal conflicts.
While I was retired from the practice of law, I occasionally helped people with a myriad of dog conflicts. At the time, I always wished there was some kind of alternative dispute resolution process available for these conflicts. Most animal conflicts stemmed from a misunderstanding between the parties. Once lawyers became involved any thought of settling before thousands of dollars in legal fees are spent is lost. Given my experience with animal issue conflicts, which arise in any area of the law, it didn't take me long to realize Animal Law needed ADR. And I am just the person to bring it into the world of animal conflicts.
I started learning the various ADR processes by taking mediation and collaborative practice training all over the NY area. I joined local Alternative Dispute Resolution groups and Collaborative Professional groups. I volunteered to apprentice for mediation centers in Queens, Westchester and Rockland Counties in NY. I was court certified in 2010 and now work in Small Claims Court as well as local community mediation centers in Queens, Westchester & Rockland. I am a member of the International Academy of Collaborative Professionals (IACP) and actively involved with several New York Collaborative Professional practice groups in Westchester and Manhattan.
Animal Law is very similar to Divorce Law. Divorce law is limited by statute yet driven by emotion. Law has little ability to respond to facts and emotions driving parties in the process. Over the past 10 years, largely due to this limitation and the resulting cost of navigating the court system, more parties are opting for divorce mediation or the collaborative divorce process. These disciplines enable the parties to craft their own solution with a neutral in mediation or their own collaborative attorneys. They speak and actively listen to each other, with the help of the neutral, or their own attorney. These processes enable parties to surrender their entrenched position, listen and give value to the other position and possibly adopt a more neutral position en route to a solution.
Parties in animal issue conflicts are similarly situated. Under the law pets are held as nothing more than property. If they are embroiled in a conflict involving their pet, be it landlord/tenant, neighbor, special education, special needs placement, divorce, malpractice, contract or trust & estate, the parties' recovery is limited by property law.
My practice provides an alternative dispute forum, for pet owners and others involved in animal conflicts, similar to what is currently provided to couples in divorce. Mediation is a neutral process in which parties in conflict can speak freely, be listened to and respected in their position. This initial opportunity to speak and be heard provides a springboard from which parties can mutually move toward a resolution of their conflict, using participant driven solutions. Litigation is always an option, however it becomes the option of last resort.
In 2010, I joined several committees and networking groups. I attended the iRelaunch program and a presentation by Susan Cartier Liebel of  Solo Practice University® in an effort to understand the process of sole proprietorship. Finding groups that enlighten me on this process and assure me I am not alone was essential. Learning from successful entrepreneurs what I should do to get there has been illuminating.
I officially opened my solo practice, Hamilton Law & Mediation, in October 2010. I provide alternative dispute resolution in animal conflicts. I mediate or collaboratively work on cases Judges truly don't want to see. My clients have the ability to reach a participant driven resolution, which better fits their needs and desires, at a cost, more user friendly than litigation. If they cannot come to a resolution, litigation is always an option. My practice provides a process that seeks to avoid litigation.
In its own small way, my solo practice is making a difference. My former wish, for an alternative to litigation in animal conflicts, is now a reality.
Are you a Re-Zoomer? Would love to hear your comments!
All opinions, advice, and experiences of guest bloggers/columnists are those of the author and do not necessarily reflect the opinions, practices or experiences of Solo Practice University®.