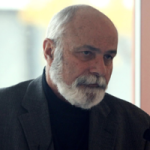 Going solo with intention and doing it the right way is going solo by design.  Who better to present a jam-packed guest lecture on this subject than Gary Bauer, lawyer and Chairman of the General Practice Solo Concentration for twenty years at WMU Cooley Law School.  Gary and I are kindred spirits. His information is purposeful, thoughtful and complete.  Listen and learn.
The audio is about 55 minutes. Listen directly below.
"I come from a family with 11 siblings and growing up, we had to learn to make due with what we had. I spent six years in the Air Force as a Navigator-Bombardier in KC135 and B52 aircraft during the Vietnam era. From that, I learned how to manage my time in a very disciplined environment. After my period of enlistment was satisfied, I worked as the Regional Sales Representative for a Japanese company traveling over 5 states as a commissioned salesperson. Income was directly proportional to my ability to sell product; it was there that I learned marketing. After six years in sales, as the company was closing their direct sales operation in the U.S., I considered my career options at 38 years of age and decided to go to law school as it provided me with the greatest flexibility and long term earning potential. After graduating from law school, I worked in a two person criminal defense practice representing clients charged with felonies. After two years of criminal defense practice with substantial trial experience, I was hired as the Litigation Director for a clinical program at T. M. Cooley Law School. I have been employed at WMU Cooley Law School since 1996 as a full-time professor of law. I teach in a clinical program for third year students in Estate Planning and also teach students in a Directed Study which I created, called Solo By Design. I have been interested in supporting students in solo practice since I was appointed to the Chairmanship of the General Practice Solo Concentration in 1999. Since then, I have developed a systematic approach to help law students make the transition to solo practice. I have gathered resources, interviewed solos, mentored students and grads  and have now written a book called Solo Lawyer By Design: A Plan For Success in Any Practice.  I hope you find it useful."
All opinions, advice, and experiences of guest bloggers/columnists are those of the author and do not necessarily reflect the opinions, practices or experiences of Solo Practice University®.