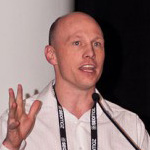 How do we create a web presence that actually works to bring in clients?  Well, this guest lecture may actually surprise you as no one is going to sell you a high-priced web site or bedazzle you with fancy Search Engine Optimization (SEO) 'tricks'.  Why?  Because you can create a good website on your own and there are no SEO 'tricks' that actually work (especially not for any length of time).  What does work is rather simple and eminently doable on your own.  That's why this guest lecture is perfect for new lawyers, solos and small firms because we discuss the ins and outs of websites, design, costs, how search has actually changed, how to capitalize upon those changes and so much more.  And if anyone knows the right answers to your questions and delivers them in a no nonsense way,  it is the original architect of the Avvo legal marketing directory giant, Conrad Saam, now of Mockingbird Marketing. So join me today and learn the facts behind what most of us intuitively already know. You'll be glad you did because we share a lot of great information – (some of which surprised even me!)
The audio is about 45 minutes. Listen directly below.
Conrad Saam is the founder of Mockingbird Marketing – an agency delivering advanced search marketing exclusively for the legal industry. Prior to Mockingbird, Conrad architected Avvo's ascendancy from concept to legal directory market leader through advanced search engine optimization tactics. He previously ran the marketing team for the widely popular restaurant app, Urbanspoon. Conrad writes the In-House column for Search Engine Land and has been featured in USA Today, the New York Times, Yahoo Finance and the San Jose Mercury News.
Connect with Conrad on Twitter (@ConradSaam).
---
Listen to more guest lectures from Solo Practice University® and get notified when new lectures are published.
All opinions, advice, and experiences of guest bloggers/columnists are those of the author and do not necessarily reflect the opinions, practices or experiences of Solo Practice University®.