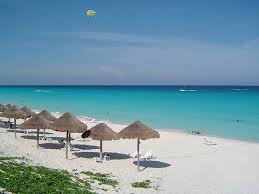 Many law students and repeat bar takers dread studying for the bar exam. This is understandable, right? I mean, honestly, the months I spent studying for the bar were not my favorite. Furthermore, we are told by our law schools, bar review providers, and any lawyer who will talk to us that bar prep is supposed to be awful. You are supposed to be miserable. It is just the name of the game.
Today, I want to challenge this assumption. I want to suggest that perhaps bar prep doesn't have to be as horrible as everyone makes it out to be. Perhaps you can, actually, not be miserable during bar prep. Is it possible? Dare we even ask?
Could you study from a beach in Mexico? 
Although I did not take advantage of this idea back when I studied for the bar exam, I think it could have been great! With technology, if you are planning on using a bar prep program like Themis, AdaptiBar, and the like, you can access all of your materials online, eliminating the need to sit in a classroom to study for the bar exam. Sure, you do need a quiet study location where you can listen to lectures, complete practice exams, and memorize material. But that doesn't necessarily need to be your apartment. Some people may actually study better in a different location without as many distractions of normal life. Could this be you?
Also, if you live in a very expensive area, like San Francisco, New York, or Los Angeles, it may be cheaper to move out of your apartment and go somewhere else for a few months. You should definitely run the numbers! It doesn't need to be a beach in Mexico; it could be a cabin in the mountains or a friend's guesthouse in wine country. There may be a lot of opportunities when you start thinking about it.
Another benefit of studying from somewhere else is that perhaps that location makes you happier than studying at home. Are you happier with more sunshine (if you live somewhere like San Francisco) or less heat (if you live somewhere like Atlanta)? Location does a lot to affect our mood. If you could change location to help you feel better, why wouldn't you?
Can you schedule your bar prep around activities that make you happy? 
Your location often dictates what you can do for fun outside of study time (yes, believe it or not, there is time to take breaks outside of study time). If you do decide to change your location, you'll want to stay somewhere that has activities that make you happy. For example, if you like to surf in the mornings, you should try to study somewhere near the ocean. Or if you are a runner, then study where there is great running to allow you to blow off stress.
Even if you don't change your location, you can still think outside the box and schedule bar prep around activities that make you happy. If you are doing an on-demand course, you have more control over your study schedule, allowing for things like yoga, going to the park with your kid, or movie nights with your significant other. Instead of letting bar prep run your life, you can choose to organize bar prep around your life. That doesn't sound too bad, does it?
Could you attend bar exam lectures on a cruise ship? 
I recently learned about an outside-the-box bar prep option that sounded kind of fun—cruising while learning how to best study for the MBE. Jonathan Grossman, who runs a website called What's the Issue, is a bar exam tutor, a bar exam instructor at a Florida law school, and just released subject matter videos with AdaptiBar. He is hosting a cruise called Sailing Passed the Bar Exam in May 2014.  Included are Florida essays and MBE tactics to help with bar prep. When he told me about the cruise a month or so ago, my first thought was "Huh, can you study for the bar on a cruise?" and then my second thought was "Why not!" I like this out-of-the box approach to make bar prep more bearable.
Can you just decide not to be miserable? 
Even if you can't change your location, remember that your mind-set is still something you have control over. You can decide how you want to approach this experience. If you go into it thinking "Gee, this is going to be the worst few months of my life"—well, they probably will be. But if you go in thinking that it will be hard but manageable, well, then, you are already in a better spot than many of your peers.
A special note to those studying while working
If you are working while studying for the bar exam, it may be difficult to leave town to do something more creative with your bar prep. But you should still reflect on how best to balance studying and life, so you are able to maintain your sanity while working really hard. This is typically done by preparing for a longer period of time—to prevent exhaustion and burnout. You still need to have time to take care of yourself and to do at least one or two things you enjoy!
Have you participated in some creative bar prep? Share your stories in the comments.
All opinions, advice, and experiences of guest bloggers/columnists are those of the author and do not necessarily reflect the opinions, practices or experiences of Solo Practice University®.