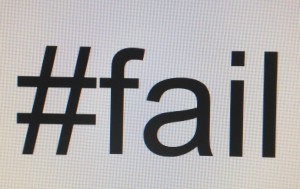 (Update: Dr. Thomas Duplinsky has dug his heels in and does not understand he is the one who loses on all counts. We've now moved on to another dentist and we will never be able to refer him another client in good conscience.)
Unfortunately, all professionals, doctors, lawyers, accountants, will tend to undervalue good client relations.  They underestimate the good will created, fail to put a price tag on it and don't own where they might have gone wrong when a long term client relationship fails.
While this is not the story of a lawyer doing so, it is easily transferable to a lawyer so I will tell you the tale.
My husband and I have a longstanding relationship with our dentist.  He was referred to us by someone we trust (first priceless connection).  We started seeing him, really liked him and he treated us and, most importantly, our mouths well.
Recently, my dentist suggested I might need a root canal but most definitely needed a crown because my tooth was cracked (on a piece of granola, no less!).  As is my habit, I asked what the total costs would be up front so I could budget accordingly.  I asked what was covered by my dental insurance and determined what my balance would be and when it was due.  Fairly routine.  I opted to keep my temporary crown on for a few months to see if I was still sensitive to hot and cold thereby giving myself a chance to see if I actually had damaged the root nerve.  Turned out that after four months I did need the root canal.  I got it done, insurance covered the root canal, I knew I had to pay 50% of the cost of the crown (which included the dentist's labor).  I got the crown put in and paid my balance.  Should have been a done deal, right?
Well, four months after completion of the procedure I get a bill for $375 for 'standard work' done when installing a crown after root canal.  This wasn't covered by my insurance.  I promptly called the dentist and asked what this was about as I had asked and was told all of the costs I would incure prior to the procedure.  I was informed by his receptionist this is standard if there is a root canal and I should have known this.  Really?  I'm not the dentist. Why should I have known this? Who was supposed to tell me?
I told them they had an obligation to inform me of all potential costs associated with the procedure. I paid the fee I was informed about and that I was not going to pay this additional fee I was not informed about.  My husband and I continued to go for our regular cleanings.  My husband then had to have a root canal.  Again, I asked for all the potential fees, double-checked with them this was the maximum total.  They said, 'yes'.
Sure enough, four months later we get a bill for $375 for the exact same procedure.  Again, they failed to inform him, the patient, and said that he should have known.
I was simply not relenting on my bill and I explained why – they had an obligation to inform me and my husband of all potential costs before I agreed to the treatment.  They didn't. They still don't.  Patients are supposed to magically know what is involved in a root canal.
Already I was starting to feel uneasy at the dentist's office though he was always pleasant.  It bothered me that as a professional he did not acknowledge he and his office had some responsibility to inform their patients…especially one who specifically asks.  But there was no acknowledgement.  It was as if the right hand refused to inform the left hand of policy and procedure.  Instead, the left hand was obligated to do all the dirty work and deal with the unhappy clients when they received surprise bills.
Months went by.  Then I got the letter informing me my unpaid bill was going to collections if I did not pay in full within ten days.
In one letter, a professional relationship of more than a decade, filled with new patient referrals as well as introductions to other professionals this dentist could cultivate to secure new business, was thrown out the window.  All because he would not acknowledge an error in his procedures and use the opportunity to learn from it.
Once again I called the receptionist and told her I will not be paying this bill for the reasons stated numerous times.  I also told them after 11 years my level of discomfort is reaching a point where my husband and I no longer feel comfortable as patients.  He is free to pursue collections but I doubt he will win in small claims court.  But the truth is, he already has lost.  The receptionist told me she would inform the dentist but it was the dentist himself who had requested the collections letter be sent. He will not make any effort to talk with me directly about the unpaid bill.
No one likes to eat a cost.  However, sometimes you have to own procedural mistakes you make and write it off as an educational expense or a marketing cost.  Good clients are generally not inclined to complain unless their is a serious mistake on your part.  Pay attention to your good clients.  Many times they are teaching you a valuable lesson.  So, no, the dentist is not going to get his $750.  But not only is he not going to get this money, he is also going to lose 11 years of good will, future paid dental visits and referrals from two good patients who would have been with him for the next twenty years minimum.  Why? He couldn't recognize a learning opportunity to improve his business and a chance to provide his patients with even more leverage to evangelize him and his services by acknowledging his mistake.  He's a very good dentist.  He's not a good businessman.
You will have good clients.  You will make mistakes which will impact your clients and maybe initially your bank account.  How you handle your good clients and these mistakes will compound over the years you are in business.  How you handle these mistakes will help grow your solo practice or put you out of practice.
This is why lawyers need to understand that while they can be great advocates for their clients in court, they still need to learn solid business and customer relations skills which include valuing client relations. They need to learn that not all marketing and educational costs are covered by writing a check.  The fact is: being a great lawyer just isn't enough.