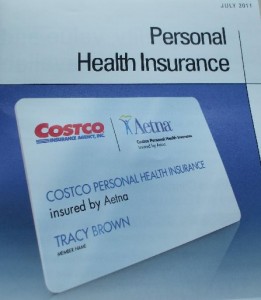 One of the biggest issues facing solos has been the high cost of health care.   Unless they have a spouse who carries them on their employer-sponsored plan (known as a family plan), purchasing health insurance is, in many cases, cost-prohibitive.  It's also a reason many people go without health insurance.  Purchasing health insurance is also right up there with any number of high-ticket purchases with negative associations because there is a general attitude one is over-paying for something to a corporation who is going to do everything in their power not to pay out when you need it so their CEOs can bag millions in bonuses.
Now that the Supreme-Court has sanctioned the Affordable Care Act,  insurers, in anticipation of this possibility, have been planning for the millions of uninsured who will have to buy a health care plan no later than 2014 in order to avoid giving extra money to the government if they don't qualify for one of the exemptions.
If you go to Walmart, for instance, Humana offers a prescription drug plan.  This spring, Aetna teamed up with Best Buy, to sell supplemental wellness plans. BJ's offers individual and family health insurance policies, too, except their policies are issued through eHealthInsurance and carriers such as Aetna, Anthem and ConnectiCare. The insurance companies are looking for opportunities to reach 'the masses' through any outlet where the average Joe frequents and spends money.
So, it was inevitable that another big box chain would team up with a health care provider to provide discounted health care policies to its members.  This would be Costco and Aetna. 
In April of this year, Costco partnered with Aetna, the third largest health insurer, and began offering individual health care policies to its customers.  If you live in Illinois, Connecticut, Texas, Virginia, Michigan, Georgia, Pennsylvania, Arizona or Nevada, you may want to get a Costco membership and check it out.  There are also plans to expand into more states. The key to this relationship is Costco isn't looking to make much money on the policies.  They are making peanuts, actually. Therefore, Aetna is able to offer a discount (probably the regular commission they would have paid to Costco).  Costco makes the majority of its money from memberships.  Aetna likes the positive association with a respected brand, Costco.   Costco is solely interested in the membership fees and Aetna is interested in Costco's 40 million members, many of them small businesses who – surprise – don't have health care.  This would include lawyers, no?
This relationship (and other big box chain/insurance company relationships) could prove valuable to solos who are looking for health care and struggling to find it.  In this deal Aetna offers a choice of five medical plans and a dental plan.  There is a 5% discount for being a Costco member.  However, this doesn't translate to 'cheap'.  Why?  Costco is not guaranteeing Aetna a certain number of members which would then create a group and allow Costco to negotiate a group rate for its members.  Aetna is still writing individual policies but for Costco members.  The premiums are certainly more expensive compared to an employee-based plan.  For instance, the emergency room fee or copay (waived if admitted) is $350 versus employee-based plans which range from $50 – $150. The individual health plans have deductibles ranging from $3,000 to $7,500. The yearly deductible for a family plan can go anywhere from $6,000 – $15,000 and that's if you are in-network.  But if it makes you feel any better, I know people who work for insurance companies and the family plan premiums are expensive and their deductibles are close to $3,000 annually.   The plan highlights include $15 copays for generic drugs at Costco pharmacies, the flexibility to see a specialist without a referral and unlimited lifetime coverage. It's not unreasonable to think of this type of plan as a nedical catastrophe plan with some decent perks.  Most importantly it's health insurance.  And Aetna isn't stupid.  The demographic for Costco members tends to be more upscale, better educated, and healthier according to insurance stats.
There is another perk. Many people have a hard time really understanding health care plans and fully digesting what coverage they are getting for their premium.   By associating with a respected retailer, one known for being highly selective and dealing in high volume, it's fair to say that a complex product is being vetted for retail sale which means, hopefully, it will be made much clearer.  Members can learn about the plan from representatives at kiosks in the stores and then purchase the plans online.
While this may still be expensive for the average solo, the fact that large insurers are looking to bring health insurance to the retail level can only be seen as a positive. It would also be interesting to see if once Aetna meets with success through Costco, if Costco will then look to negotiate a group rate which will then be even less expensive for the average small business owner to purchase.
This is a good start.  What do you think?