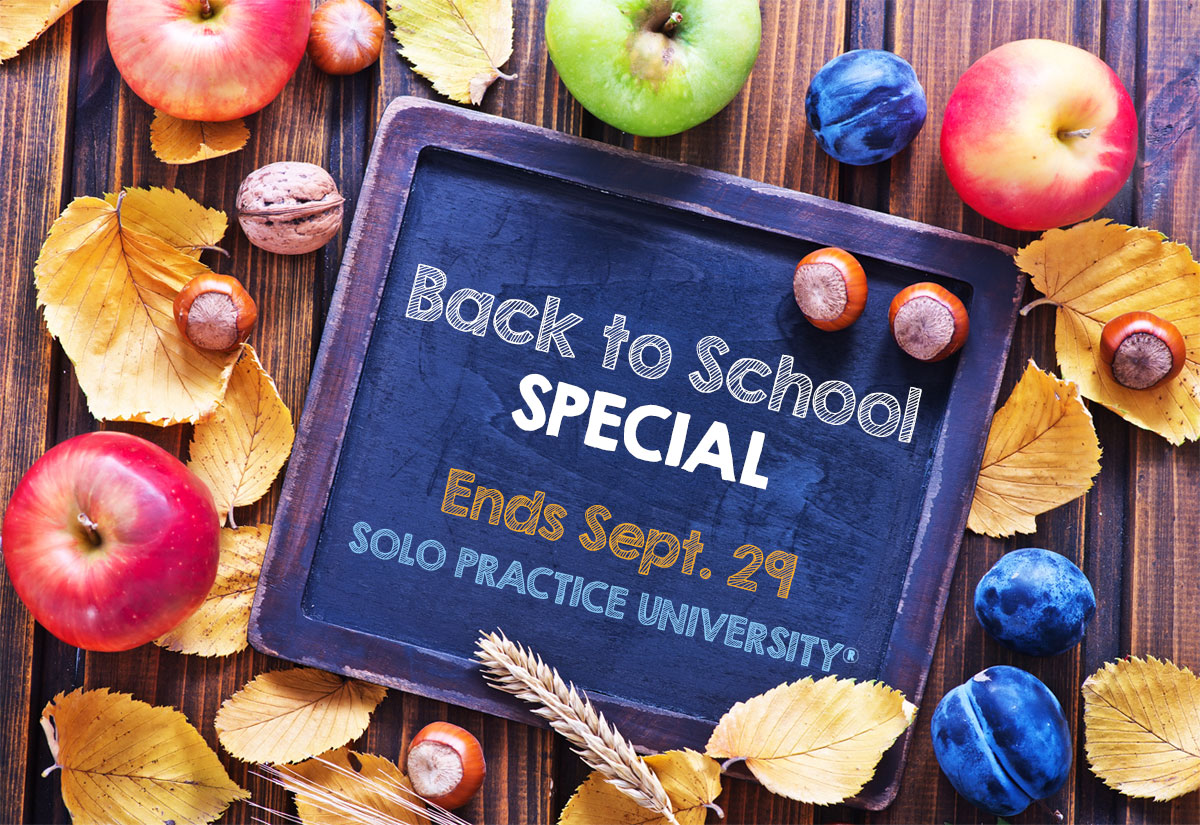 2021 has been filled with the strangest news. We've read about the discovery of a fossil of a 4-legged Whale*, you can possibly get your hands on a piece of Princess Diana's wedding cake**, a research vessel found SpongeBob look-alikes a mile under the ocean's surface,*** and it's getting harder to find Mac and Cheese Ice Cream!**** And this is just the tip of the oddest news iceberg. So, it's now back to school time and school is shaping up to, once again, look very different for everyone.
Solo Practice University school has always been online and safe and secure from your home or office or home office!  However, we also know that finances remain tighter than normal due to the events impacting us all.  2021 will end but at this stage, who knows what 2022 will even look like. But until then, get armed with the knowledge you need to creatively build an exciting and profitable practice because you are going to have to be even more entrepreneurial then ever before.
In keeping with our mission and of making life and practice more affordable,  we're making it easier than ever for you to join Solo Practice University.
Now through Wednesday, September 29, 2021, we are reducing our first month's tuition to $88 and your monthly renewal will also be reduced to $55.  And with our automatic renewal, you will get this renewal price locked for life).
This is your golden ticket to:
More than 1500 nuts and bolts classes on the 360 degree knowledge needed to be your own boss.  Available 24/7, watch and learn as often as you'd like.
Networking with like-minded lawyers who also want to build their solo/small firm practices
Connection with amazing faculty to answer your questions
….and so much more.
If you've been putting off enrolling because you thought you couldn't afford this great education, or you think 'I can't start a practice or build a practice during a pandemic', think, again.  This is the best time to do it!  Do not miss this opportunity. Repeat. Do not miss this opportunity. This offer ends Wednesday, September 29, 2021, at 11:59 pm EDT. (New or returning students only).
And if you're already an SPU student but know someone who could really benefit from Solo Practice University and this incredible Back­ to School offer, share it with them. They'll thank you for it!
Yes. I'm Ready To Go Back To School
---
***Sponge Bob is alive and well
****Mac and Cheese Ice Cream