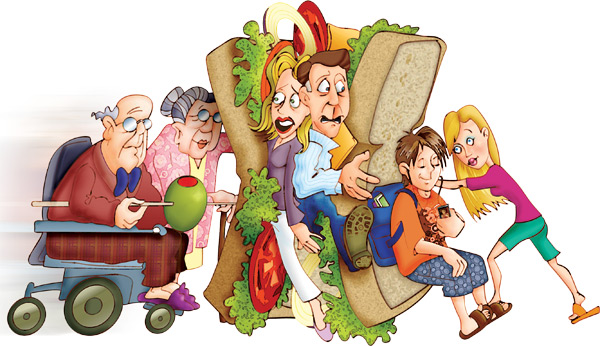 Meeting Neva Strom is a life-altering event. This vivacious Trust and Estates/Elder Law practitioner whisks you into her warm presence and sets you at ease from moment one. She has rezoomed her career with such precision and passion; you cannot help but pay attention and want to keep her as a colleague and friend.
Neva graduated from New York Law School in June 1991 after completing their 2.5-year Midyear Accelerated program. She was 33 when she was admitted to practice law and did so with all the commitment needed as a solo. She did it all in her solo Trust and Estates/Elder practice, which she opened in 1992. She had her first child in 1993 and her second in 1997. It was after the birth of her second child, and the inclusion of elder care to her childcare demands that Neva decided she needed to stop practicing law for a while, maybe until her youngest went to school. Twenty years later she picked up her litigation pumps and rezoomed her solo practice in Trust and Estates/Elder law.
What happened in the intervening twenty years? Well, this journey carries a new theme in rezooming. Neva not only took care of two children she was also the caregiver for three elder relatives, all of whom, mercifully, never had a crisis at the same time. While she provided child and elder care she began studying nutritional studies to enhance the quality of life of her children and elders. Neva received her certification as a Nutritional Educator and Consultant.
When asked about her break from the law Neva says, "I was away from law much longer than I anticipated, 20 years. It doesn't feel that long but to say it out loud sounds like forever." After her two children left for college and her elder care had ended it was time to, "give myself to the practice of law again." What did she do? Her alma mater, New York Law School, through its generous alumni program enabled Neva to audit classes that refreshed her skills. She took CPLR, Negotiation, Persuasion, Drafting: Litigation Documents and Trial Advocacy. As a born and bred New Yorker Neva felt she had to ask for things for free or at a reduced price otherwise she might "Lose my birth certificate."
Neva refreshed her license, which had lapsed during her absence. It pure Neva Strom fashion, she found that this process was complicated and confusing so she had taken on the project of fixing the "words of the law [so they] correctly reflect the actual way things are done." In January 2017 she started attending NYS Bar Association (NYSBA), The Bar Association of the City of New York (NYCBA) and related professional organizations to take advantage of their subject matter, job transition workshops, and CLE's.
Neva joined both the NYSBA and NYCBA, both of whom have proven incredibly generous in helping her attend programs that jump-started her leap back into the law. She was able to take or attend programs that helped her meet people she could collaborate with and become competitive. She likely holds a rezooming record having taken 80 CLE credits since January. She participated in the NYCBA Job Skills 4-week seminar. This seminar provides panel instruction as well as small group discussions where real "pros worked with about 5 participants to review and revise our actual documents. This was invaluable." Neva wanted to share Carlota Zimmerman, J.D. "Success Strategist", with the Rezoom reader. Carlota was a panelist at the NYCBA "Career Fast-Tracking for Lawyers" event. And is a continuing source for Neva.
Her rezooming is "going well." Her license was renewed in late February 2017. She attended the NYSBA Trial Academy in Ithaca for a week. Neva characterizes this program as being, "water-boarded with trial skills." Lectures in the morning and skills practice with assessments in the afternoon. Networking was conducted in the late afternoon then it was off to your room for much needed preparation for next day practicals. It was in some ways worse than the bar exam, yet she would do it again in a second, and highly recommends it to anyone. She has a profile on LinkedIn and is using it to connect with colleagues and complementary professionals who all might be colleagues, or potential clients since, "The need for a Will is universal (since everyone dies)."
Neva shares her three tips for those of us considering rezooming the practice of law:
Be cheerful, enthusiastic, engaging with others, and always look clean and professional. Since our "peaches and cream complexion" of youth may no longer be serving us, a pop of color along with enthusiasm for what you are doing will go a long way in serving your primary goal.
Ask for what you need, accept offers of help, yet be willing to accept "no" for an answer. Start with the obvious two: your school alumni associations (college and law.) If your law school's Career Counseling staff appears at Bar Association trainings you can rest assured they are top notch. College reunions work well for networking too. It is amazing how people want to help if you simply engage, listen, and ask.
Get tools and use them. – Make clear and easy to read business cards. Pass them out wherever you go. Follow up with people you meet by emailing them and sending them a LinkedIn invitation specifically stating how you met, or what makes you want to connect. Write on the card where, when, and how this person fits into your brand. It will be invaluable many weeks after an event when you reconnect. Lastly, be sure to enter all the business card info into your phone when you make an appointment. If there's a transit problem, you can call or text easily.
Neva goes on to suggest getting familiar with the Internet but not swallowed up in it. Read and comment on articles written that impact your practice area or your clientele. Recognize, if you want to be a solo, a great deal of your business may be face to face so remember to practice how to professionally meet and engage with people. Finally, "Be prepared to be active. Offer to help where you can, even if you are learning because soon you will be doing, then teaching."
Now take Neva's journey toward the 21st Century Rezoom with all its warts and pimples and get out there!
All opinions, advice, and experiences of guest bloggers/columnists are those of the author and do not necessarily reflect the opinions, practices or experiences of Solo Practice University®.