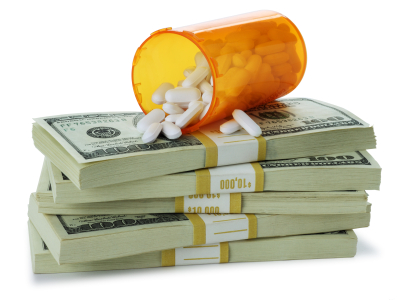 Sometimes what stops a lawyer (new or old) from starting a solo practice is not fear about knowing the law or finding mentors.  It's about affording to go into practice.  Health insurance is a big part of the 'affordability' question.  It is for all self-employed people.  It is for me, too.
For many, it's less about the Affordable Care Act requiring everyone be insured or pay a fine, and more about finding the money to meet the big deductibles before you can even get to use the insurance you pay for.
With that, let me share what I've learned in my journeys down the insurance rabbit hole.
My insurance plan will no longer be what is now termed a 'cadillac plan' (you know, those all-inclusive soup-to-nuts plans with $15 co-pays for doctor visits and $5 co-pays for generic prescriptions).  I currently pay a hefty monthly insurance premium for our family 'cadillac' plan but with no deductible to meet before we can get services or prescriptions with a modest co-pay.  We are switching to a more affordable plan meaning the monthly premiums will be less each month (if there really is such an animal).  The plan also includes an HSA (Health Savings Accounts) which is not really part of this discussion but you should investigate this option with your own health insurance company. The difference is while we will now have a lower monthly premium we will also have a $4000 out-of-pocket deductible to meet each year before we can get our medical services paid 100% directly by the insurance company.  Prescriptions costs are counted towards the deductible for the first year.  Then there is a separate prescriptions deductible which must be met before our prescriptions are covered.
While we've been blessed so far with minimal medical needs, we still go the doctor and we still have to periodically fill prescriptions.  Today, I want to share how I plan to save money on prescriptions and maybe this will help you on a daily basis. Of course, as is a typical for me, I have to tell my 'story'.
Our insurance plan is changing July 1 so naturally I was setting up all our regular annual doctor visits, refilling prescriptions as needed before I got caught up in paying the full amounts once we are on our new $4000 deductible plan.  I went to the pharmacist and asked him the cost of certain medicines.  I showed him a free prescription card I had received in the mail that was provided by our town for those who don't have insurance (or have a deductible plan like I am going on).   I saved this card in my desk drawer for over a year.  He told me, 'I've seen those plans.  They are worthless.  Maybe you'll save 10-15% on a prescription. You'll probably do even better if you use our store rewards card.'  So, I had him check out all the different costs.
First.
On my current plan:                                      $5 co-pay for generic version

Full Retail Cost:                                              $410 (WOAH!)

Rite Aid Wellness Card:                                $369 (Still WOAH!)

National Prescriptions Savings Network:  $79
(Card my pharmacist said was worthless!)
He said, 'maybe that was a fluke. Let's try another prescription.'  So, I gave him another one my husband uses periodically.
On my current plan:                                       $15 co-pay for branded version (3-month supply)

Full Retail:                                                       $398

Rite Aid Wellness Card:                                $312
The pharmacist was stunned but wisely asked for the card and the website so he could give the information to his customers. It's a free card and upon further investigation it is based upon the principle of large purchasing power.  Apparently they have more juice than a Rite Aid and/or no shareholders to deal with or store overhead.
Needless to say, I was 1) shocked at the ridiculousness of these prices, and 2) mortified knowing I now had to shop pharmaceuticals because there is such a dramatic difference in what you pay depending upon what you know! Starting on July 1 I was going to be paying out of pocket so this really mattered more than before.  So, I went on the internet and with just cursory searching discovered that pharmaceutical shopping is serious business and knowing where to go can save you hundreds of dollars each month depending upon your needs.
I took the same medications and found another site called GoodRx.  I then plugged in the most popular medication in the world, Lipitor.  Look at these prices!  And for comparisons sake, scroll down to find Rite Aid's price which is 700% higher than the lowest price available. I then plugged in Amoxicillin (a common antibiotic). Look at these prices (cheaper than a co-pay).
And so I plugged in the prescriptions noted above for further price comparison with GoodRx
Prescription 1:  $39 (Savings of $40 from National Prescriptions Savings Network)


Prescription 2:  $83  (Savings of $128 over National Prescriptions Savings Network)

GoodRx is even better than the free prescriptions savings card provided by my town.  The point is, yes, insurance premiums are a bear.  The high deductibles are challenging.  However, at least when it comes to prescriptions you may be in luck when it comes to out-of-pocket cash outlay. Hint: With all my research, the best prices for prescriptions can be found at both Walmart and Target.  With GoodRx coupons you will save a lot more at both stores.
Bottom Line: Here is a great way to save on some of your health care expenses. Every little bit counts especially when you are in business for yourself.
Do you have any tips? Please add in the comments.