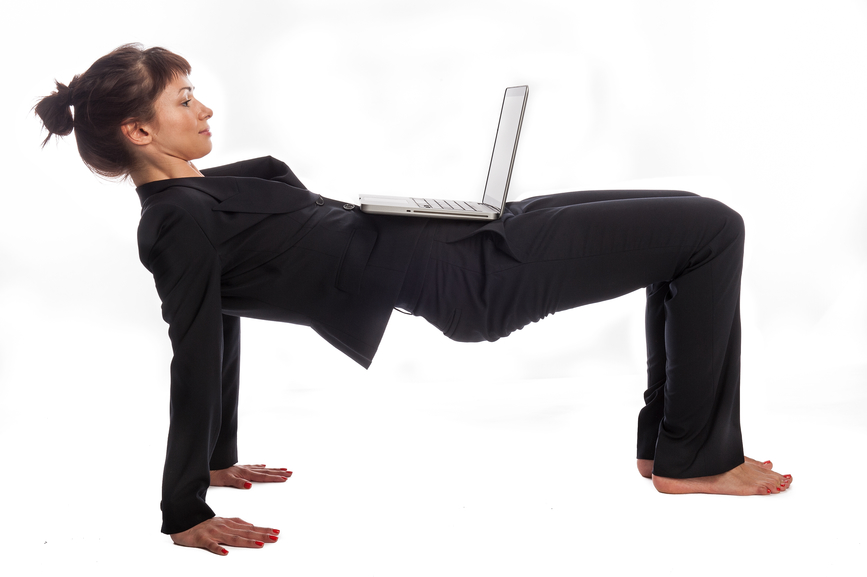 One of the best things about being a solo/small firm lawyer that solo/small firm lawyers always cite is the flexibility. Flexible work schedule, flexible billing options, flexible practice areas. We are practically yogis.
What we never say is that all that flexibility does not mean a reduced workload, easier billing or lowered obligations to learn all those new practice areas. There is a price, and we usually pay it in longer hours working for ourselves than we ever put in working for Big Law.
Still, there's more to that flexibility thing than meets the eye. We can make it to the kids' soccer practice and ballet recitals. We get to actually see our spouses once in a while. We can also be flexible with the rules about running our business.
At Big Law, there are many rigid rules. There are 25 secretaries, 10 paralegals, 8 file clerks, 5 summer associates, 2 receptionists, and they all have to follow a set of rules that do not apply to the lawyers, who have their own set of rules. Business attire (a.k.a. a navy, black or gray suit) for lawyers, business casual for the staff. Your secretary works for you and three other lawyers, and she can only be there 8:00 a.m. to 5:00 p.m., no overtime, no exceptions. Your paralegal actually only works for the shareholder in charge of your department. There is an accounting department that runs pretty much everything behind the scenes. For the lawyers, there are rules for how and when you work, how you bill, when and how you track your time, what professional organizations you can join, etc. There are rules for taking time off, rules for getting the work done, rules for how handling the mail, ordering office supplies, making copies, making coffee…  No one gets special treatment, no one gets a break.
There's a reason for this rigidity. Big Law runs like any larger business: they have to treat everyone the same or they get into trouble. The firm cannot make accommodations for any one employee, because then they have to do it for everyone. Rules avoid arguments, establish boundaries, and ensure that things keep running when the managing partner isn't there. Every person in the firm is a cog in the machine, and the machine breaks down if things get too flexible.
Not so with a solo practice/small firm. Flexibility is actually required in order for us to function. We have to wear many hats: lawyer, boss, accountant, receptionist, cleaning lady, HR department. The solo practitioner as business owner gets to make up the rules as we go along. Now, that doesn't mean that we don't establish order in order for everything to function; but we get to say what exactly that order is going to be.
I established rules about work hours, taking breaks, using the practice management system, closing files, scanning documents, noting the client file, and other systems. I even set the dress code (even if it's just, "Wear whatever you want as long as I can't see your hoohah"). If someone needs a special accommodation, I can make a business decision whether to make a one-time exception or to just change the rules. Paralegal's dad is in town unexpectedly, but she doesn't have any personal leave left? No biggie. Scanning every piece of paper before closing a file is taking forever and keeping other work from getting done? Maybe we need to change how we do things. 
I know of (at least) one solo practitioner who runs his firm like it was a Big Law firm. Rules for everything and no exceptions. He demands that the staff treat him like a king. When he enters his office, his assistant has to meet him at the door with a glass of water, in a particular kind of glass, with exactly three ice cubes in it and a beverage napkin underneath it. He's got a million other little ticks that his staff must observe and they must attend to his every need. That is his choice as the business owner, but I don't see the point. The rules box him in as much as they do his staff, but I guess that's how he likes it.
I prefer things a little more relaxed. It's nice if my assistant makes me coffee or runs out to pick up lunch, but it's not required. As long as the work is getting done and getting done well, I'm pretty easygoing.
Call it Zen and the Art of Running a Solo Practice. Keeping things loose and flexible makes things easier for me, for my staff, and for my business. That flexibility lets me like practicing law.
All opinions, advice, and experiences of guest bloggers/columnists are those of the author and do not necessarily reflect the opinions, practices or experiences of Solo Practice University®.