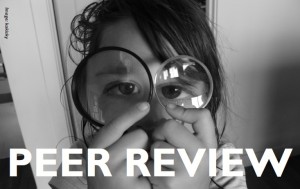 Last Fall I posted a piece entitled "Where's the Beef" that discussed the value of peer review as a quality control process within the law firm setting. In this month's post I would like to carry that discussion a bit further. Unfortunately, seasoned partners, if they are open to running with peer review at all, tend to want to view the peer review process as more of an educational tool for associates and they'll leave it at that. Personally, I find that a bit short sighted because a good percentage of reported claims are the result of a partner's misstep, not an associate's. Certainly peer review can be an effective method of training associates, but this should not be the principal focus.
Again, peer review is about improving client relationships and ensuring that quality legal services are being delivered on a consistent basis and, therefore, it is something solos can institute because it is about creating an opportunity for learning and then seeking to guarantee that the learning is institutionalized which is key. There is limited value in learning something if what is learned is not implemented.
If your firm has managed to institute some form of peer review, first off, kudos to you as few firms really embrace the process. Now that you've taken this step, I would have you consider going beyond just reviewing client files and having discussions with fellow clients or your partner if in a small firm. There are two other valuable sources of information available, namely any staff you might have…and clients. Bringing these folks into the peer review process will result in an even more thorough and value-filled learning process. At the conclusion of representation on files selected for peer review, you might ask staff to comment on the level of professionalism that they saw demonstrated by the attorney toward staff and clients throughout the representation. Were calls returned in a timely fashion? How about their response to requests for information or assistance from both staff and clients? Were tasks timely assigned and with adequate instruction? Was the attorney available and approachable for training, guidance, or clarification on any instructions given? From the staff's perspective, how might the attorney/client relationship have been improved? If you really stop to think about it, this would be valuable and relevant information because an attorney's poor performance here can directly impact the bottom line.
With clients you should ask for candid and honest feedback outside of the presence of the responsible attorney(s). Now this may be rather hard if you are a solo but that doesn't negate the need to do so. Ask questions like, how did it go? Were responses to all client inquiries timely? Did the attorney exhibit professionalism in his or her presentation and interactions? Did the client feel that they and their matter were important to the attorney? Were bills easy to read, easy to understand, and did they provide enough information? Did the communication that occurred throughout the course of representation provide sufficient information?  How might services be improved? Again, the answers to such questions provide valuable information that is too often never sought.
Most malpractice claims are brought by clients. Doesn't it make sense to try to understand how effectively the firm's services are being delivered to your clients? You can only get that kind of information from the client's themselves. I also buy into the argument that client audits, for lack of a better term, can enhance client loyalty because they demonstrate that client opinions matter and that the firm is open to hearing criticism for the purpose of bettering itself. That is powerful stuff.
I can appreciate that for some attorneys what I am suggesting here is too much. They'll argue that I am taking peer review farther than it was ever intended to go, although what I suggest here can be accomplished outside of a peer review process. Yes this does push the comfort zone for many of us including myself at times. Who likes to hear that more could have been done after we felt we gave it our best? Let me respond with this observation however. I have been a client of a few attorneys over the years. When I needed an attorney, I wanted someone who was the best that I could find. At least for me, and I would bet for many clients, one aspect of getting the best involves finding an attorney who is able to demonstrate a high level of confidence. I don't want to worry about my attorney feeling less than completely confident during contract negotiations or while trying a case. I can't think of anything that exhibits a greater level of confidence than someone who is willing to take an open, honest, and candid look at their performance. For me, this is someone who is at the top of his or her game and I don't think I'm alone in holding this belief.
Do you have some form of 'peer review' in place to check yourself?  Let's discuss in the comments.
All opinions, advice, and experiences of guest bloggers/columnists are those of the author and do not necessarily reflect the opinions, practices or experiences of Solo Practice University®.