Most solo lawyers are making a mistake that's costing them clients and money.  It's not their fault.  If you are making this mistake, don't worry … it can be quickly fixed.
The next step in building an awesome bilingual solo practice is to go to your clients.  For the non-English speaking community, a lawyer's office location can be an important factor.  By offering to meet your clients in their community, they are more likely to trust you and refer their friends to you.
Why to Meet with Clients in Their Community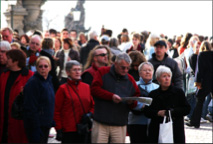 If your office is not in your client's community, they might have trouble finding your office; especially if they don't speak English.  It shouldn't be hard for your clients to meet with you.
By offering to meet clients in their community you'll stand out from the crowd. For example, if you were visiting a non-English speaking country and needed a lawyer, how comfortable would you feel meeting the lawyer in an area you're unfamiliar with? You'd probably search for an English-speaking lawyer and preferably one that is close to you so you wouldn't have trouble meeting the lawyer.
Bilingual practices are about opening bridges and establishing gateways for clients who otherwise would be shut off from legal representation. As a bilingual lawyer in your client's community, you can gain their trust for their legal issues.  You become your client's go to resource for any other legal services they need.
Multiple Office Locations
If you're open to meeting a client in their community, you will need to have a designated location where you can have private conversations and where the client will still feel welcome. One choice is to open a satellite office within your client's community.  A satellite office would be ideal for practices with more than one lawyer, though not necessary.
If opening a second office isn't within your firm's budget, you may be able to share an office with another lawyer looking to expand into that community. Other options include time sharing offices and virtual offices.  These are more cost-effective methods for offering your services in your clients' community without having to take on all of the expenses of a full-time office.
If you need more flexibility, you can choose to meet in a public location within your clients' community. Pick locations that are familiar, inviting and still offer enough privacy to have conversations with your client. I've met clients in coffee shops, diners and restaurants. Not only do you show your client that you value them, you also get to eat well.
Meeting clients in their home is also an option. This allows you to meet with your clients  in the place they feel most comfortable.  Another benefit of meeting clients in their home is that they will have greater access to their documents and information, instead of having to bring in missing documents on another day.
Always Ask, "How Will This Affect My Clients?"
These are just a few reasons why you should consider having multiple office locations. Of course, there are many other considerations when thinking about multiple office locations, including time and costs.
As lawyers building a bilingual practice, your main concern should be how you to meet your client's needs.  Non-English speaking clients need an attorney they can trust and that is conveniently located.
If you are able to prove that you are a good lawyer looking out for your client's needs you'll gain a reputation as an attorney that the community can trust.  That reputation will be your most valuable asset as you grow your practice.  So in everything you do, always ask, "How will this affect my clients?"
All opinions, advice, and experiences of guest bloggers/columnists are those of the author and do not necessarily reflect the opinions, practices or experiences of Solo Practice University®.