Nora Riva Bergman and Liz Lamar will teach a course called Lean Six Sigma for Solos at Solo Practice University®. View Syllabus
Classes begin one week from today and continue one class each month until course completion.
Nora Riva Bergman, J.D.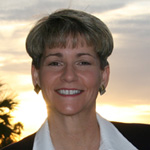 Nora Bergman is a law firm coach and certified Atticus Practice Advisor.  As a licensed attorney since 1992, Nora brings a deep understanding of the practice and business of law to her work with lawyers, law firms and bar associations. She has practiced as an employment law attorney and certified mediator and has served as a professor at both Stetson University College of Law and the University of South Florida, teaching courses in alternative dispute resolution and negotiation.  In addition, Nora has been a speaker at conferences for the American Bar Association, the Federal Bar Association, the American Academy of Adoption Attorneys, the National Association of Bar Executives, The Florida Bar and other national and regional legal organizations. She has also served for eight years as the Executive Director of a voluntary bar association with over 1,200 members.
Her background as an attorney, law professor and bar executive gives her a unique perspective on the challenges lawyers face.  In addition to her broad experience with all aspects of the law firm, Nora understands the importance of, and is committed to, helping attorneys leverage technology in order to maximize their ultimate success.
Nora is a graduate of the Leadership Development Program (LDP) at Eckerd College, and is certified in the Conflict Dynamics Profile® developed by the LDP to help individuals and organizations learn how to deal with conflict constructively.  She is also certified in the DISC Behavioral Style Assessment.  Nora is a graduate of Villanova University's Lean Six Sigma Program and is certified by Villanova as a Lean Six Sigma Sensei.  She is also a member of the Thought Leader Team at Law Without Walls, an international program for law students founded by the University of Miami School of Law.  In 2013, Nora was selected as a faculty member for The Florida Bar Leadership Academy.
Nora received an undergraduate degree in journalism, summa cum laude, from the University of South Florida and her J.D., cum laude, from Stetson University College of Law, where she was a member of the law review and served as a mentor for incoming students.
Twitter:
@LawFirmCoach
@TLFRevolution
LinkedIn
http://www.linkedin.com/in/norarivabergman
---
Liz Lamar
Liz Lamar is a management consultant at Affinity Consulting Group.
Liz assists clients around the country in the areas of business process reengineering, strategic and crisis management, team building and conflict resolution. She is a certified Lean Six Sigma Sensei and is a co-founder of The Law Firm Revolution: Lean Six Sigma for Law Firms. Liz is also a Florida Supreme Court Certified Circuit Civil Mediator.
Before working as a management consultant, Liz served as Vice President for a multi-state title company and Director of Operations both for a real estate law firm and an international art gallery. With over 18 years of practical management experience, Liz's primary focus has been on creating efficiencies within organizations, driving business strategy development and building results-oriented teams.
Among Liz's strengths is her ability to advise clients on managing change and crisis as well as her ability to identify areas of high liability and recommend process solutions to minimize exposure. Through her implementation of Lean Six Sigma principles, Liz has assisted clients in increasing efficiency and profits by eliminating waste and defects.
Liz is a graduate of the University of Miami School of Law where she obtained her Juris Doctor in 1999. She serves as Practitioner Mentor in LawWithoutWalls™, an educational collaboratory, sponsored by UM Law, focusing on innovating legal education and practice. She is a member of the Citizens Board at the University of Miami.  Liz has also published numerous articles in industry publications and is in the process of co-authoring a book on Lean Six Sigma for law firms.
---
Syllabus – Lean Six Sigma for Solos
Class 1: Overview of Lean Six Sigma Concepts
This course will take you on a journey that will challenge you to re-evaluate how you run your practice at every level – from how you serve your clients to how you manage information to how you manage your time and ultimately how you manage yourself.  The focus of this class is based on principles that have been around for decades.  We'll share principles that have been utilized by companies from Apple to Xerox – and even some innovative law firms.  These principles will help you be more effective on every level.  They will help you do more with less while serving your clients better than ever.
As part of the course we're going to share with you the thinking of some of the thought leaders in Lean Six Sigma and suggest a variety of books and other resources to check out on your own.  Because these methodologies have been around for so long there is a tremendous wealth of knowledge available about them in books and online.  Our role will be to bring you that knowledge in bite-sized pieces that you can apply to your practice right now.
Class 1.2: What is Lean?
Class 1.3: What is Six Sigma?
Class 2: Fundamentals of "Value" and "Waste"
2.1: Lean's Definition of Value
2.2: The 8 Deadly Wastes – Part 1
2.3: The 8 Deadly Wastes – Part 2
Class 3: Process Improvement and Continuous Improvement 
3.1: What is process improvement?
3.2: A model for process improvement: DMAIC
3.3: Continuous improvement: Kaizen
Class 4: What is 5S?
4.1: Overview of 5S
4.2: Application of 5S to your office environment
4.3: Application of 5S to desktop, email, knowledge management
Class 5: Process Mapping for Improvement
5.1: Process Mapping "101"
5.2: Mapping the Process—Transactional
5.3: Mapping the Process—Litigation
Class 6: Leveraging Technology
6.1: Lean Six Sigma and Document Management
6.2: Lean Six Sigma and Personal Productivity
6.3: Lean Six Sigma software, services & apps