We've kicked off a new series of free audio guest lectures at Solo Practice University starting with Smart Marketing with Mark Merenda. These ongoing lectures will feature our faculty experts discussing what's new in their own practice areas or their specific areas of business expertise. The audio series is simply called 'What's New?' We'll feature a new guest lecture approximately every other Tuesday. We hope you benefit from them and share this link with others!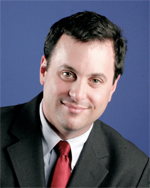 Trippe Fried is the CEO and General Counsel of In House Legal in Nashville, Tennessee and Washington, D.C. He teaches a course about business law at Solo Practice University.®
Business law is changing all the time and Trippe walks you through some of the trends he is seeing in business law for 2011 such as:
Independent Contractor vs Employee and how the IRS is stepping up enforcement in this area
FSLA litigation is on the rise and a great place for solos to dig in is proactive risk assessment and management
Involuntary entrepreneurs are increasing and this is making IP protection an increasingly attractive area for lawyers
The impact of health care, tax law and other initiatives on business planning
The impact of client concern over costs and how this is driving new business to solos and small firms
How to work with multi-jurisdictional issues when working with business clients as the world is getting very small
Cross-marketing of services to increase your networking and referrals
How collaborative budgeting will increase your business
How business lawyers must become business managers to add value to their clients and how to do so through effective networking and strategic alliances
This is a jam-packed discussion about What's New in Business Law in 2011.  You don't want to miss it.
Audio is approximately one hour.
---
Listen to more guest lectures from Solo Practice University® and get notified when new lectures are published.
All opinions, advice, and experiences of guest bloggers/columnists are those of the author and do not necessarily reflect the opinions, practices or experiences of Solo Practice University®.