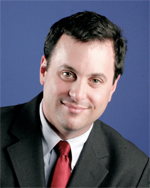 Trippe S. Fried will teach the course "The Underdog's Guide to Trademark Protection" at Solo Practice University®. He has also taught the courses Business Law and Outsourced General Counsel.
Trippe Fried has been a practicing attorney for seventeen years. He works exclusively with entrepreneurs and businesses and often as an outsourced general counsel. Trippe functions both as part of the management team assessing and addressing potential risks and as the company's legal representative. His work includes case and legal services management, transactions, mergers and acquisitions, company development, contracts, employee relations, intellectual property protection, corporate governance, and dispute resolution.
Trippe has worked with clients around the country and in numerous industries including technology, health care, manufacturing, professional services, transportation, venture capital, human resources, and social services. He also writes on matters of interest to attorneys and entrepreneurs and has taught several courses on the legal issues businesses face.
The creator of his own successful technology business, the Virtual Legal Department, Trippe knows from experience the challenges of entrepreneurship and what legal services business owners really need to survive in the 21st Century global economy.
Trippe has been published in several law reviews including Transactions and the DePaul Business and Commercial Law Journal. He also hosted his own radio show on issues of interest to small business owners.
---
Syllabus – The Underdog's Guide to Trademark Protection
Small business owners are frequently confronted by their larger counterparts leveling accusations of trademark infringement. Sometimes the allegations have merit. Sometimes it is simply big companies – and big law firms – bullying others in the market to obtain objectives completely unrelated to genuine intellectual property use concerns. This course explores how lawyers can help their clients strategize, protect their marks, stand their ground, and avoid costly litigation.
Lesson 1 – Trademark Basics
What is a "trademark"? What is the significance of a trademark (i.e. why are they important)?
What is the difference between a trademark and a service mark?
How do you obtain a trademark? When should you register a trademark?
How do you register a trademark?
What do you do after the trademark is registered?
Lesson 2 – Trademark Disputes – Basic Considerations
Trademark disputes are "fact intensive" – what does that mean for you strategically?
What is trademark infringement?
How is trademark infringement proven?
Strategic considerations – Evaluating the strength of your position and figuring out if you're being cautioned or bullied

Being cautioned – how to beat a cost-effective retreat
Being bullied – standing your ground without over-escalation
The importance of keeping things professional.
The importance of keeping your client in the loop and apprised of the risks of a legal dispute.

The importance of "valuation"

How do you assign a value to a trademark?
What is the significance of that valuation and how do you incorporate it into your strategic considerations?
Lesson 3 – Offensive Game Plan – Protecting Marks from Infringement
Use it or lose it – keeping your mark in the stream of commerce and keeping your registration up to date
Reaching out effectively – strategies for negotiating work-arounds
Pulling to trigger – when and how to sue
International Considerations

The Madrid Protocols
The trouble with China
Lesson 4 – Defensive Game Plan – Handling Allegations of Infringement
The importance of understanding "the enemy" – the bigger the opponent, the greater the client's strategic disadvantage, the more creative you will need to be
Understanding the standard "big firm" threatening letter – what it means and how to push back
The importance of thinking "outside the box" – finding creative solutions
Rebranding strategies

When to rebrand
How to rebrand
Cost considerations
Lesson 5 – Contracts & Trademarks
Using contracts to protect trademarks and other intellectual property
Shared Use and Exception agreements