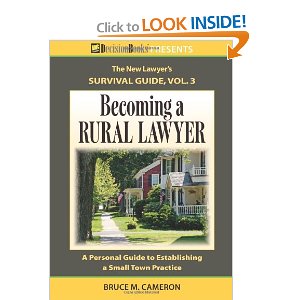 Bruce Cameron, who has been a student at Solo Practice University since we opened our doors more than four years ago, graduated from law school in 2007, a former software engineer/biomedical researcher. He is the author of Rurallawyer.com, twice named among Minnesota's Top 25 blogs, an ABA Legal Rebel  and the go-to guy on rural practice.
Since we've known him, he's been living in a small southeastern Minnesota town, population approximately 800.  So, imagine the dual challenge of going solo right out of law school and straight into creating and building a modest but successful rural practice?  Well, he's done it and he's written a book about his experience called 'Becoming a Rural Lawyer'.
I've had the fun of reading this instructive, yet surprisingly intimate, story of how he did it.  But more importantly for you, he shares much more about the unique challenges and rewards of small town living, how you have to deal differently with the people in a tight-knit community, the courts, the manner of practice and procedure and so much more. What flies in New York City will fail miserably in Lost Springs, Wyoming.
While there are good solid business principles as well as marketing ideas presented which will benefit a lawyer in a rural practice, in my opinion, that's not the real value of this how-to book. Bruce does not hold himself out as any type of guru.  The true jewel of this book is how he helps you to understand rural life and how to best acclimate to the needs of those who live in this country's smallest communities. He does this by interviewing numerous rural lawyers so the reader gets many perspectives on rural lawyering. For instance, you may behave one way believing it to be the professional way and in doing so alienate yourself forever from those you want to represent and not even know why.
Stranger in a Strange Land

Compared to the typical suburban/urban experience, small towns should be considered a foreign land, each with its own unique identity, culture, and traditions.  Don't be fooled by the fact that rural and suburban America share a common language and national culture.  Small towns are firmly convinced that the way they do things is simple common sense, and is the right way to do things…even if it runs counter to an outsider's objective logic.

If your relocation is going to succeed, you must accept a different pace of life.  Not necessarily a slower pace; instead a pace that proceeds purposefully, deliberately, a conscious effort to be in synchrony with the town's rhythms.  This is a pace that takes the time to play, to work, to talk, to be involved; it's about defining success by the quality of your relationships (private and public), regaining control over your life, and integration into a community rather than hours spent in the office. ` Bruce Cameron, Becoming A Rural Lawyer
Through this sharing process, Bruce really helps you dig down deep to see if creating a rural practice is right for you.
So, you never considered a rural practice?  Maybe you should rethink this. Why? Because the economy is impacting the choices available to each and every one of us such as where one can afford to live, quality of life, child-rearing, and career opportunities.  Technology has made choosing where we physically live easier but going rural is so much more than that. It's a way of life and it's an adventure.
There are as many paths to a rural practice as there are rural lawyers; some come to it straight from law school, some fall into it as a second career, and some because it is a better alternative to the big city/Biglaw way of life. The successful ones bring with them a sense of entrepreneurship, the ability to take on a bit of risk, and the willingness to become involved in their new community. ~Bruce Cameron, Becoming A Rural Lawyer
This book will bust myths about rural life and rural lawyers and introduce you to a whole new way of approaching the practice of law…the small town lawyer way.