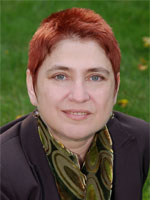 Diane J. Levin is a dispute resolution professional and attorney. She provided a guest lecture about "Careers in Mediation" at Solo Practice University® on May 18th.
A mediator since 1995, Diane has conducted mediations in disputes in litigation or for private clients in tort, workplace, real estate, business, and probate matters, and serves on numerous mediation panels, including the U.S. Equal Employment Opportunity Commission.
Before becoming a mediator, Diane practiced employment and tort law. A sought-after speaker on ADR, and an experienced trainer of mediation and negotiation skills, Diane has taught thousands of people in corporate, institutional, and governmental settings, for clients that have included Coca-Cola Enterprises, Bose Corporation, and the Fletcher School of Law and Diplomacy, and in rule of law programs for USAID supporting judicial reform in Eastern Europe. She also serves as a negotiation coach to entrepreneurs; demystifies digital technology for ADR professionals; and has advised mediators and mediation programs around the globe.
To promote non-adversarial alternatives to litigation, Diane has served on many boards, including four years as an officer of the Association for Conflict Resolution's New England Chapter, and currently co-chairs the American Bar Association Section on Dispute Resolution Mediator Quality Improvement Committee. As a writer, Diane contributes to numerous online and print publications on dispute resolution and negotiation, including Lawyers Weekly, ABA Dispute Resolution Magazine, The Complete Lawyer, and others. She also publishes MediationChannel.com, a Featured Blog at premiere ADR site Mediate.com and recently honored by the American Bar Association as a top legal blog. Diane co-hosts the monthly podcast series, Cafe Mediate, featuring discussion with ADR experts on the field's most pressing issues.
A lawyer with a commitment to social justice, Diane is a Massachusetts Bar Foundation fellow and a volunteer attorney with the Family Law Project providing legal services to victims of domestic violence. She is a Phi Beta Kappa graduate of the University of Massachusetts, Amherst, with a B.A. in Russian language, and earned her J.D. cum laude from Suffolk University Law School in Boston. For the latest news on ADR, negotiation, and mind science research, you can follow Diane on Twitter at @dianelevin.
What you will learn, discover and become aware of in this teleseminar:
Considering a career in mediation? Here is essential information that lawyers and law students need to know before investing in training.
Defining practice: what is mediation, how does it work, and what's in it for the clients? An overview of the field.
Qualifying and credentialing mediators: what is the state of mediation as a profession today?
Why your bar card or law degree are not enough: what training or education lawyers need to become effective mediators
Investing wisely and smart: what you need to ask before registering for that mediation class in law school or paying money for a mediation training
Myth-busting: what are the most common urban legends about lawyers, mediation and mediators?
Getting known, getting good, and making money: what critical steps lawyers and law students can take to make it as a mediator
Next steps: recommended resources for information on mediation training, careers, networking, and continuing education
This guest lecture is about 57 minutes. Listen directly below.
---
Listen to more guest lectures from Solo Practice University® and get notified when new lectures are published.
All opinions, advice, and experiences of guest bloggers/columnists are those of the author and do not necessarily reflect the opinions, practices or experiences of Solo Practice University®.