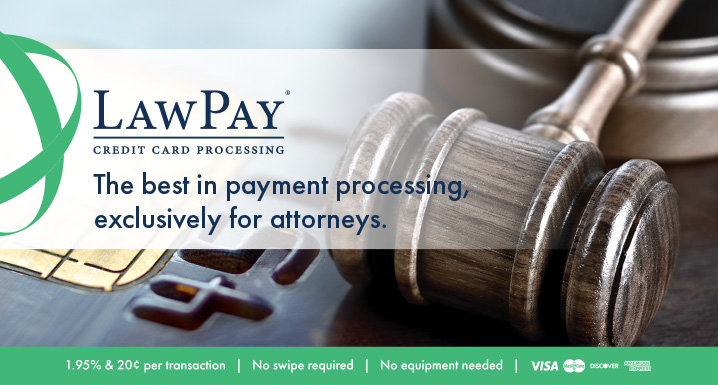 Credit Card Processing for Attorneys
IOLTA guidelines and the ABA Rules of Professional Conduct require attorneys to accept credit cards correctly. LawPay guarantees complete separation of earned and unearned fees, giving you the confidence and peace of mind that your transactions are always handled the right way.
LawPay has worked closely with our bar partners, their ethics committees, and their practice management divisions to ensure our program meets every need for attorneys accepting credit cards. We are proud of our exclusive status as a member benefit to 43 state bars, 50 local and metro bar associations, and the American Bar Association.
With the LawPay Program, members can:
Accept all forms of payment in a professional manner.
Increase business by accepting credit cards for retainers.
Avoid commingling client funds.
Increase cash flow by accepting credit cards for collections
Benefits
No annual fees
No Contracts
No Minimum Processing
In compliance with ABA and State guidelines
Members save up to 25% off standard bank fees
Superior Customer Service
How Do I Get Started Saving Money?
To learn more call 866-376-0950 or visit LawPay.com.
---
It's No Fad: The Progression to Online Payments Is Real , September 26th, 2016
Good Billing Habits: What They Don't Teach You in Law School, February 18th, 2016
Should Your Law Firm Accept Credit Card Payments?, February 13, 2012
Students and faculty at Solo Practice University® receive a discount on this item. You must be logged in to see the amount of the discount and the discount code. Enroll now to enjoy SPU benefits.
*Please contact vendors directly for customer service.