In Anticipation of Our Second Birthday….
This past week we implemented some exciting design and function upgrades to the Solo Practice University® website. We also restructured our tuition plans. Read more below about what's new.
---
New Pricing Structure, More CLE
We restructured our tuition for lawyers and law students. The tuition changes do not apply to currently enrolled lawyers or law students  – those tuition rates are "locked-for-life".
"Unlimited online CLE" will now be included — for free — to lawyers who enroll at the annual level. Unlimited online CLE is provided by nacle.com and your access to Unlimited Online CLE is valid throughout the duration of your enrollment here at Solo Practice University®. Learn more about Unlimited Online CLE.
If you are currently enrolled at Solo Practice University® and would like to take advantage of Unlimited CLE, send Susan a private message within the Solo Practice University® website, or use this contact form to get in touch.
---
New Look
Our website has a new look, both inside and out. The goals were to improve navigation, increase organization of content, automate dynamic content, and make the website load faster. The changes will be most noticeable to existing students who are logged in where we completely re-designed the homepage so that recent classes, campus news, guest lectures, student blogs, and more are all streamed to the page automatically. And each item within a section now includes an author picture or featured image to help you identify what the item is all about before you click. We will continue making improvements to the look and feel of the site in the coming days and weeks, so stay tuned.
---
Unlimited Blogs & Websites
Since the day we launched (March 20, 2009), we've offered the option for enrolled lawyers and law students to create an unlimited number of public or private blogs and websites with just a few clicks using our built-in publishing software (WordPress). But now we've simplified the procedure. If you are logged in at Solo Practice University®, simply select "My Sites > Create a Site!" from the navigational bar at the top of any page. Then enter the name of your website or blog, choose a privacy level (public, semi-private – just viewable within the SPU community, or private – available just for your viewing), select a theme, and press "Create Site". Each new website or blog will be added to your account instantly and for free.
Why?
Creating a website or blog at Solo Practice University® requires only a few clicks and can take less than a minute. We take care of the technical requirements, including web hosting, maintenance, backups and upgrades. We also offer expert support. These benefits are included with your tuition. If you've ever created or maintained a website or blog, then you'll probably understand what a challenge it can be to do everything on your own.
Custom Domains
Once you create your new website or blog, it will be located on a temporary domain that you've selected (Ex. example.solopracticeuniversity.com) and you can begin adding pages, adding posts, adding plugins, customizing settings, and much more. If you would like to hook up your own domain to your website or blog (Ex. yourcustomdomain.com), just point your domain at our servers and enter the domain in the "Domain Mapping" page in the "Tools" section of your dashboard. Adding a custom domain to your website or blog allows you complete control over your branding and content. Visitors to your site will have no idea that your website or blog is hosted on our servers. Neither will Google or other search engines. Your ranking and performance are totally up to you.
Portability
Should you ever decide to leave Solo Practice University® and host your website(s) or blog(s) somewhere else, you can take your website(s) or blog(s) with you along with any inbound links that you've earned from other websites so long as you are using a custom domain. All data can be exported with a few clicks. And with a custom domain, you own your domain. Only your content is hosted on our servers. To move your hosting, simply point your domain to the new location and your visitors (and search engines!) can continue to access your website(s) or blog(s) you initially created on our servers without interruption. You retain all the 'Google juice' your blog has generated.
If you have an existing website or blog, you can also import your data to a blog or website you create at Solo Practice University®.
Professional Support
Anytime you have a question or need help with your website or blog, whether technical or otherwise, reach out to our full-time support person (David). David has several years of experience working with websites and blogs, specifically WordPress. He can help you with all sorts of issues, including getting started, publishing content, search engine optimization, privacy, and customizing your website or blog.
Custom Everything
We have several themes for you to choose from and dozens of plugins (or "add-ons"). But we are also flexible. If you have a specific theme or plugin you would like to install on your website or blog, even if it's a custom/premium theme or plugin, just let us know and we will add the feature to your site.
Example
Check out Small Business Law Blog to see a working example of a website that was created at Solo Practice University® and continues to be hosted on our servers.
---
The Solo Practice University® Blog
As part of our overall design upgrade, we gave the Solo Practice University® Blog a makeover. All archives can be scanned easier. Related topics or posts are available at the end of each post. Author bios are now clear and visible. And much more. If you would like to subscribe to our blog, grab the RSS Feed or signup for email updates to have new articles delivered to you automatically.
---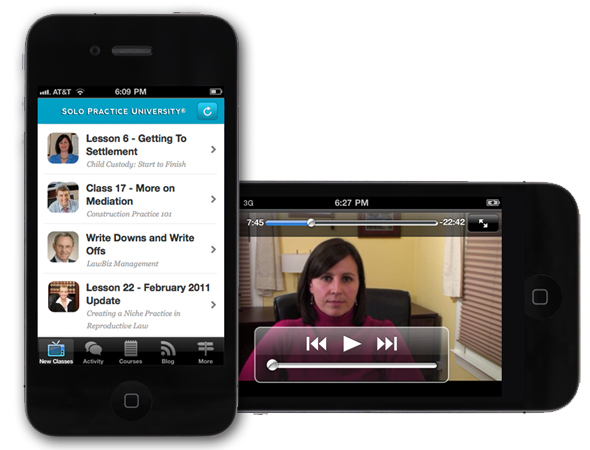 What's Next? Mobile & More Mobile
One of the most requested features by lawyers and law students enrolled at Solo Practice University® is "mobile" access to video lessons. The vast majority of our courses include video lessons. These videos are currently served up to students via Adobe Flash. This works great when accessing lessons via a desktop or laptop. Just about everyone uses browsers that support Flash, and some mobile devices do, too. But iPhones, iPads, and iPods do not support Flash. We have been working on making all videos available on devices that do not support Flash. We are also working on alternative stylesheets for the site so that all content and navigation is optimized whether you are using a computer or other device. You can look forward to mobile access…soon!
---
Stay Tuned
Over the next few days and weeks, we will be announcing some exciting new faculty members and courses. We'll also be posting more exciting guest lectures and more faculty interviews as part of the Solo Practice University® "What's New" audio series.
Don't forget to join the conversation on Facebook. We're posting lots of great info there as well as chatting with colleagues about all things solo!
See you on the inside!