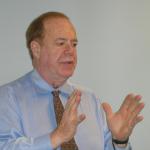 Richard Litvin has been involved in helping graduates pass the Bar Exam for over 20 years. . He will teach a bar preparation course at Solo Practice University™.
Professor Richard Litvin has been involved in helping graduates pass the Bar Exam for over 20 years. He founded Litvin's Bar Tutorial in 1987, and Litvin's Supplemental Bar Course in 1994. At Solo Practice University, Litvin plans to offer (1) a bar exam blog, (2) some video bar exam classes, (3) essay writing classes for first and second year law students, and (4) a blog exploring ideas for a law school "specializing" in preparing students for Solo and Small Practice.
Litvin's Bar Tutorial was designed for and offered to students who were retaking the bar. His success with these students (based on extensive individual feedback on both MBE and Essays) attracted students from as far away as Alaska, California, Mississippi, and New Mexico, as well as every state in the Northeast. They came to CT, studied, and returned (mostly) to pass their state bars.
Litvin used his experience with repeaters to design and offer a course (not for credit) at Quinnipiac University School of Law, where he was a tenured Associate Professor. Litvin's Supplemental Bar Course was provided by QU as a Supplement to BarBri for first time bar takers. Each year, students who attended Litvin's supplemental classes as well as BarBri passed various state bars at over 95%. This course was offered on videotape by a number of other schools scattered around the U.S. with similar success for attendees.
Litvin has produced an original series of bar tutorial videos (soon to be on DVD) which provide 6-7 classes on each of the MBE subjects, covering both MBE and Essay formats. Litvin is also interested in designing a brick and mortar law school, from the ground up, "specializing" in educating students for Solo and General Practice.
Litvin has a B.A. from Dickinson College (1967), a J.D. from Temple (1975) and an LL.M. from Yale (1976). He clerked for Federal District Court Judge Edward Becker (1977), taught at Whittier Law School from 1977-1980, and at Quinnipiac University (and its predecessor) from 1980 to 2008. Although "retired" from Quinnipiac, he continues to offer his bar class to students at QU, as well as at Western New England School of Law, and Chapman University School of Law.
Litvin has presented his work on the bar at numerous conferences sponsored by the ABA and by AALS (for law professors and bar examiners) throughout the US. He also has been a guest speaker for the National Black Law Students Association. From 1994 until the present Litvin has devoted himself to his students by providing them with academic support and direction. Litvin acknowledges his greatest resource is his students who guide and inspire him regularly. One of his greatest resources is Susan Cartier Liebel, founder of this site, who turned him on to the beauty of Solo Practice.
---
Syllabus – Litvin's Bar Exam Preparation
Introduction to Bar Exam. What to expect. How to prepare.
Torts: Overview
Contracts-Sales: Overview
Evidence
Property
Crim Law & Procedure
Constitutional Law
Bar Essay Writing