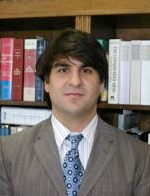 Greg graduated with honors from The Citadel where he received his bachelor's degree in Business Administration. In 1997, he received his law degree from Cumberland School of Law.
For the first four and half of years of his legal career, Greg served as a Deputy District Attorney for the Jefferson County, Alabama District Attorney's Office. By age 26 he tried his first death penalty case. He went on to try either solo or as lead counsel seven capital murder and six murder cases. He also had the benefit of being the first lawyer in Alabama to be certified by the Alabama State Troopers as a Traffic Homicide investigator. He obtained this after attending a two-week seminar, which required him to live in a closed military base with forty other police officers. He also had the unique experience of being provided alcohol in a controlled setting so he could be utilized by the Jefferson County Sheriff's training academy in officers learning how to administer field sobriety tests.
He subsequently left the DA's office to become a partner in a forty lawyer civil litigation firm. This firm concentrated mostly on civil defense work, but Greg continued to expand his plaintiff and criminal defense practice. He successfully defended an Alabama man charged in Heard County, Georgia for Sexual Abuse. Interestingly, his local counsel declared he was the best attorney in Heard County because he was the only attorney in Heard County. He also successfully defended a respected plastic surgeon that had been accused of sexual abuse by an employee. Greg also defended the civil case filed by the accuser. Greg also cites his one million dollar loss in a wrongful termination case as an invaluable learning experience.
In 2006, he co-founded Rutledge & Yaghmai. His partner Gene Rutledge has practiced for more than forty-five years. One of Greg's goals was to reduce the number of cases handled to allow for more individual attention to each case. Rutledge & Yaghmai maintains a general litigation practice. Greg focuses on personal injury, business litigation, and criminal defense cases.
Greg has truly handled cases from all sides: criminal prosecution/defense and civil plaintiff/defense. Overall, Greg has tried more than seventy-five jury trials to conclusion. He has significant experience in using visual presentations and present day media applications in presenting cases to jury. His ultimate jury consultant is his wife, Brandi, who he met when she served on the jury of a rape/kidnapping case he tried.
Greg is licensed in all state and federal courts in Alabama. He is currently obtaining his license in Georgia.
---
Syllabus – Trial Techniques
A. Introduction- "Why listen to what I have to say?"
B. Three prongs litigator
Educator
Teacher
Entertainer
C. Control of the Courtroom
Court Staff
Casual Observers
Opposing Attorneys
D. Trigger Mechanisms
Slow walk around the table
Focus, Listen, Win
E. Jury Conversation
"Voir Dire, jury selection, JURY CONVERSATION"
Individualize your case
F. Opening
Use visual/audio exhibits
Don't Show your entire hand- "Peaks and Valleys"
G. Cross-Examination
Use of visual tablet
Yes- You can ask the question you don't know the answer to
H. Closing Arguments
Culmination of your art
Rule of 3s
Silence is sometimes Golden
I. Case Studies
Prosecution of Trafford Police Chief
Criminal Defense of Sam J.
1 Million Dollar Verdict – Vannesa H
Criminal Defense of Dr. S
J. Conclusion
---
Syllabus – Using Constitutional Criminal Law in Your Practice
Real World Fun and Bolster Your Practice
Class 1- Introduction- Recent Constitutional Criminal Law
Con law can actually be FUN- "Be the smartest lawyer in the room"
Reasons why it will bolster your practice – Translates to $$$$$$$
WHY JUDGES WILL RESPECT YOU FROM NOW UNTIL THE END OF ETERENITY
Enhance your courtroom skills
Outwork the prosecutor into submission
Overview of class
Class 2- Bullcoming; Crawford v Washington and Melendez-Diaz v. Massachusetts
Particular Witness Rule of the Confrontation Clause
Prevent prosecutor from "backdooring" evidence.  Changes the complex of your entire  case, from negotiating to winning.
Class 3 – Alabama v White – 4th Amendment
Use of anonymous tips
Prevent "effect of listener" hearsay exception as basis from admissibility by prosecution.  If you practice criminal law this issue will arise more often than you currently realize.
Class 4 – Salinas v Texas – 5th Amendment
Silence of Defendant
Important distinction of when "silence by Defendant" may be used by prosecution.  Can be hinging factor of guilty v not guilty.
Class 5 – Arizona v Gant – 4th Amendment
Search incident to arrest
Prevent blanket use of "search incident to arrest" as basis for admissibility of damaging evidence
Class 6 – Missouri v. McNeely 4th Amendment
Arrest, search, and investigation
DUI case that holding can be used in other areas to aid in suppression.
Class 7 -  Open mic night for various cases