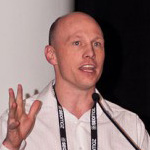 Conrad Saam is the founder of Mockingbird– an agency delivering advanced online marketing exclusively for the legal industry. He will be teaching an all-inclusive, no holds barred course on "Search Marketing."
Conrad is one of 34 Google Small Business Advisors with a focus on SEO and PR and the agency is a Google Partner. Prior to Mockingbird, Conrad architected Avvo's ascendancy from concept to legal directory market leader through advanced SEO strategy. He previously ran the marketing team for the widely popular restaurant app, Urbanspoon. Conrad is a frequent guest speaker at Local U, a panelist of David Mihm's Local Search Ranking Factors survey, a frequent speaker on search – including Mozcon, SMX, SearchFest and Pubcon. He was an early contributor to Search Engine Land's In-House column, has been featured in USA Today, the New York Times and the Huffington Post and is the author of The FindLaw Jailbreak Guide.
Connect with Conrad on LinkedIn, Facebook and Twitter.
---
Syllabus – Syllabus: Search Marketing
Instructor: Conrad Saam
Overview: In this series, participants will be exposed to the inner working of the three fundamental flavors of search:
Organic search 
Local search
Paid search

We will also review tools and techniques for tracking the efficacy of different online channels, down to the cost per client metric. 
Section I: Introduction
We review the why's of search and explore both the strategic elements as well as more tactical ones. In legal, there are three different strategic objectives defined by the prospect's willingness to buy: research, firm identification and vetting. Tactics for Natural, Local and Paid  search must be designed to appropriately fit into each of these phases of the purchase funnel.
Section II: Measurement and Reporting
Why start with measurement…. Because if you don't know how things are working, why bother doing any of the rest of it.  We review a series of tools, that when put together can track the efficacy of your search efforts -  all the way from impressions to signed client. We learn to filter down the innumerable number of reports in Google Analytics to an important, manageable subset.  We track conversion through phone, chat and form-fill through various tracking tools.  In addition, we review commonly used (although erroneous) reporting measures such as ranking reports and time on site.
Section III:  Natural Search
Natural search, also known as organic search, is the granddaddy of search marketing.  We'll review the three foundational components to natural search: technology platform, content and authority.  Participants will learn how to use various tools to assess their competition and identify their own specific weaknesses.  Most importantly, we'll review a framework for the hardest part of natural search: the art and science of linkbuilding.
Section IV:  Local SEO
Local search results show up as the pins on a map in the Search Engine Results Pages… and is now the only search option exclusively dedicated to local companies.  We'll explore the components of local search – NAP fidelity, citations, third party review sites and of course links.  We'll also review the concerns around "fake" offices – and the difficulty facing solos who want their home offices to remain… their home.
Section V: Paid
We'll explore the unique economics of the PPC model – the rare inverse relationship between price and volume.  We'll learn how to run highly targeted campaigns, mobile specific campaigns, and how to install tracking numbers through call only campaigns.  We'll explore theories around A/B testing and learn to identify changes to a campaign (which can reveal that the agency eagerly cashing your management fee has touched your campaign in months.)  This section focuses heavily on Adwords, but the theory applies to Bing as well – where the economics are much different.